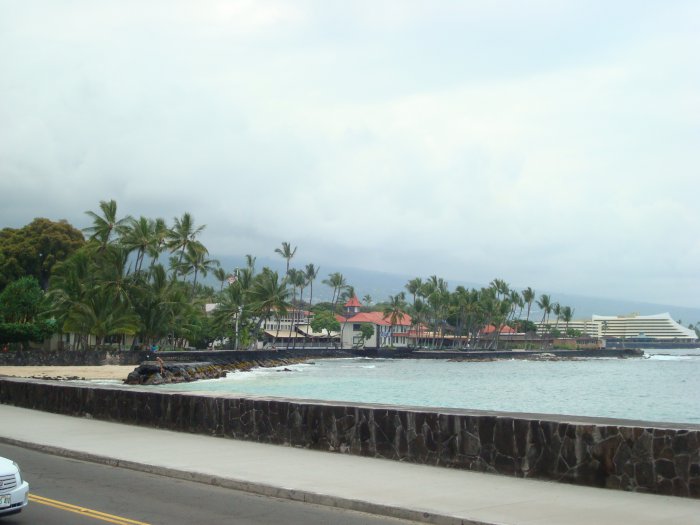 Below is my Kona hotel review for the Courtyard King Kamehameha's Kona Beach Hotel by Marriott.  This hotel is a 15 minute drive from the Kona airport.  It is located in Kailua-Kona near the Kailua Pier on Kailua Bay.  I booked my reservation 3-4 months prior to arrival using Marriott Rewards points.
Courtyard King Kamehameha's Kona Beach Hotel
75-5660 Palani Road  Kailua-Kona  Hawaii  96740  USA
Kona Hotel Review:
During June, I stayed for 2 nights at Marriott's Courtyard King Kamehameha's Kona Beach Hotel.  I felt like this Kona hotel had more of a busy, convention hall feel although it is located near the water.  There were quite a few Hawaii artifacts and locally made items throughout the hotel which added a nice vibe.
My hotel room was clean, beautiful and faced the street side with all the shops.  Again, it felt more like a business hotel rather than a tropical oasis but it was clean and inviting nevertheless.  Onsite, there is a gym, a pool, restaurants, complimentary wi-fi and beach or pier access.
You can also make a reservation for the luau which happens on specific nights on the beach.  Although I didn't attend the luau, you can certainly hear and see some of the dancers from afar.  It appeared to be fully booked and fun.
Outside the hotel:
You can see the pier, boats and cruise ships in the water from the hotel and walking along the boardwalk / sidewalk along the water.  At the corner of the pier and sidewalk, people were snorkeling and swimming.  I am not sure that I would chose that spot to snorkel or swim.  The water looked a bit deep there as it's not a sandy stretch of beach that you walk out toward the ocean.  As well, some were jet skiing and paddle boarding in the area.
From the hotel, if you walk outside, there is a lot of shopping.  Just follow the main road, Ali'I Road, and for a lengthy stretch, there is lots of shopping and restaurants along the way.  All have ocean/beach view as they are on the right side of Ali'I Road (with the sidewalk on the left side).
Shopping is mostly touristy so it's a good place to pick up souvenirs.  As well, the hotel gift shop is really good place to find souvenirs and to get snacks.
Getting to/from:
The Courtyard King Kamehameha's Kona Beach Hotel is 8 miles from Kona International Airport (KOA).  I used a rental car, which you can pick up at the airport, to get to this hotel.  It's a really easy drive south on Hwy 19 with a right turn on Palani Road.  There is a parking lot with lots of spaces for self-parking.  However, there is a daily $17 USD fee to park.
There is also a Kona-Hilo public bus.  I'm including the link to it from the Marriott website.  But I didn't use it while on the Big Island so I have no opinion to share either way.
Onsite, there is a Hertz rental car service.
Other:
For my 2 night reservation, I used Marriott Rewards points.  For this stay, 25,000 Marriott Rewards points were needed per night.  The 25K points represents point-saver award levels.  Thus, 50,000 points total for the stay.
Recommend (Y/N): Yes
I would stay here again and recommend this Kona hotel.
Courtyard by Marriott King Kamehamehea Kona Beach Resort
Kona Airport