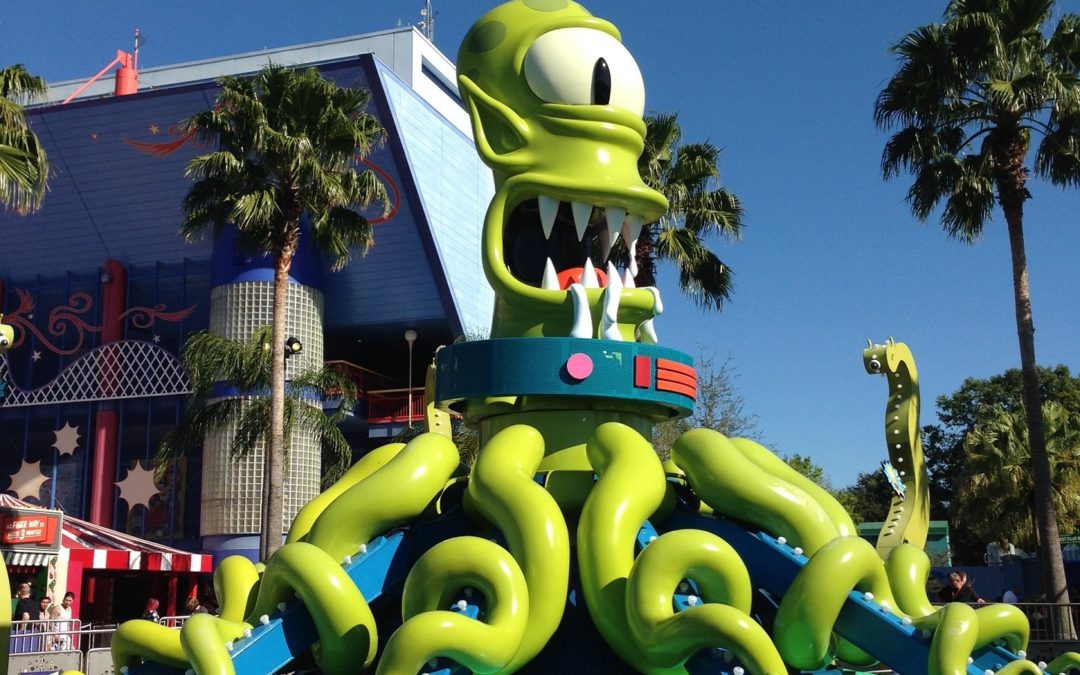 Universal's CityWalk: Top 7 fun things to do
If you're in the Orlando area, driving through the area or attending one of the Orlando theme parks, consider checking out Universal's CityWalk as a destination onto itself.  This is a large entertainment area, called CityWalk, which is at the (pre)entrance to Universal Studios and Islands of Adventure.
Let's take a look at what makes Universal's CityWalk such a fun place to explore:
1. Dining:
There are lots of restaurant options at Citywalk to reflect a lot of budgets.  Two of my faves are the Bubba Gump Shrimp Factory and the Red Oven Pizza Bakery.  There is a food court with casual dining (eg. Moe's, Panda Express, BK, etc) and there's more upscale fare like Emeril's, Hard Rock Café, Buffet's Margaritaville or Bob Marley's.  These last listed restaurants provide more of a themed and entertaining atmosphere than the casual dining options.  For example, the Hard Rock Café ® is filled with memorabilia inside the restaurant.
Check here for a full list of restaurants.
Red Oven Pizza Bakery is a more in-between restaurant – ie. It's not casual and it's not super upscale.  I found the customer experience to be really nice.  You queue to order (whole pizza's typically) and then put your name down for a table reservation.  As a table becomes available, you are seated and they bring you your pizza.  This was really pleasant as the CityWalk gets so crowded and the last thing you want to do is battle, pizza in hand, for a table.  Really thought out and organized experience.  The mushroom pizza with truffle sauce was also excellent.  Check out the menu.
2. Shopping:
There are many retail outfits from where to peruse and shop. The Universal Store is in CityWalk with all your favorite Universal character paraphernalia as well as a tattoo parlor and surf shop.  For a full list, click here.
3. Live Shows:
The main live show at Universal's CityWalk is The Blue Man Group.  This show is awesome, unlike anything you have seen before, fun and memorable.
4. Live Music:
There is live music on the main floor at Margaritaville and a mariachi band at Antojitos Authentic Mexican Restaurant.  This is part of the dining experience and not an additional charge (that I am aware of).
Nightly, Bob Marley also has a Reggae band and Pat O'Brien's has a piano bar.  There are age restrictions and cover charges.
Check the respective venues for more information.
Interested in performing with a live band and backup singers, then head over to CityWalk's Rising Star for an amped-up karaoke experience.
5. Mini-Golf:
There are 2 themed 18-hole miniature golf courses for you to take a swing at.
6. Movies:
On-site, there is a huge AMC Cineplex movie theater with IMAX.  Featuring more options for concessions like pizza and hot items as well as an improved stadium-style, cushy, reclining seating.
7. Combo Fun Packages:
This place is so great, you even have the option to combine a meal with another fun activity: golf, a movie or The Blue Man group performance.  For a list of value packages, click here.
To get to Universal's CityWalk, you'll have to park as if you are going into Universal Studios or Islands.  Parking after 6pm is free but prior to 6pm it's $20.  This area closes at 2am (whereas the Universal theme parks close around 9pm or earlier).  There's so much to see and do in this section, it's worth a visit.