Below is my Maui hotel review for the Wailea Beach Resort by Marriott.  This Maui hotel is located in the south of Maui and is beachfront on two beaches, Wailea and Ulua.  The property is immaculate, expansive and stunning.  Every view is beautiful and it's very tranquil and calming.  I booked my reservation 3-4 months prior to arrival using Marriott Rewards points.
For more Maui info, check out my posts: Explore Maui in the Hawaiian Islands and Discover Haleakala National Park & Crater.
Wailea Beach Resort – Maui Hotel Review
3700 Wailea Alanui Drive Wailea, HI 96753, USA
Maui Hotel Review:
My 2 night stay at Marriott Wailea Beach Resort was during the month of June.  Upon arrival, you are welcomed by beautiful and large trees, a welcome drink and a gorgeous view of the ocean.
My hotel room was clean, beautiful and had a partial view of the ocean.  The floors were tiled which helped to keep it cool.  Onsite, there is a gym, multiple pools (including an infinity pool), restaurants and complimentary wi-fi.
This beach resort has expansive grounds where you can lounge out on the grounds by reserving or selecting a cabana or lounge chair.  It's a short walk down to the beach which is also beautiful.  I can see why so many weddings take place at this resort.  The landscaping, scenery and views from all angles are stunning.
One thing I do recommend is watching the sunset (or sunrise) from the grounds or beach.  Bright orange, pink, purple and breathtaking.  The picture above really doesn't do it justice.
Nearby is shopping, restaurants and retail at The Shops of Wailea.  Although beautiful, I found it to be very overpriced.  Therefore, if you're on a budget or just don't want to waste money, I would drive by/through but keep going.
Getting to/from:
Marriott Wailea Beach Resort is a 15 miles from Kahului Maui Airport (OGG).  I used a rental car, which you can pick up at the airport, to get to this Maui hotel.  It's a really easy, relaxing drive.  Once you arrive at the hotel, there is ample parking.  However, the hotel charges a daily $25 USD fee to park.  I really disliked having to pay for parking at all the hotels I stayed at in Hawaii especially when there isn't an alternative choice.  I mean, where else are you going to put your rental car?
Also, an alternate choice is the Maui public bus.  I'm including the link to it from the Marriott website.  But I didn't use it while in Maui so I have no opinion to share either way.
In addition, onsite at the Marriott Wailea Beach Resort there is an Enterprise rental car service.
.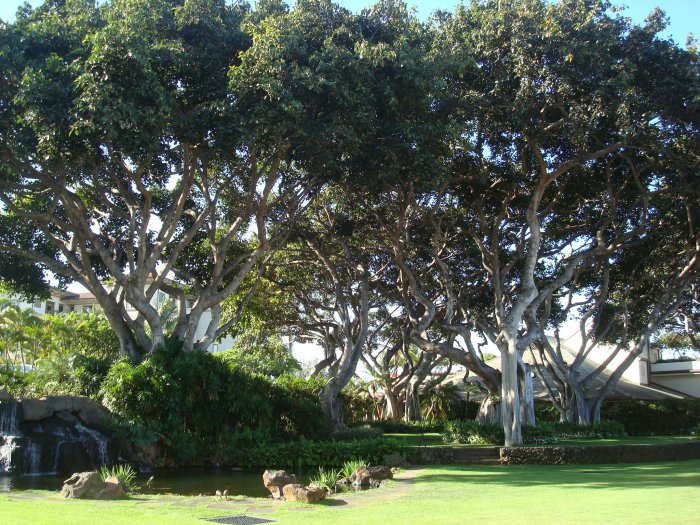 Other:
For my 2 night reservation, I used Marriott Rewards points.  For this stay, 35,000 Marriott Rewards points were needed per night.  The 35K points represents point-saver award levels as this hotel recently went through a refresh/refurbish.  Thus, 70,000 points total for the stay.
I was charged only for parking but not sure if this hotel now charges a "resort" fee on top of the room rate.  When I used Marriott Rewards points, there wasn't a "resort" fee added to the tab.
Recommend (Y/N): Yes
I would stay here again and recommend this hotel.