There are many fun things to do near Rapid City SD if you have an extra day or two.  One of the main things is of course, a visit to Mt. Rushmore, a quirky American attraction.  But Mt Rushmore isn't the only national park, sculpture or nature outing near Rapid City SD.  There are numerous others.  During my visit, I was able to sample a few.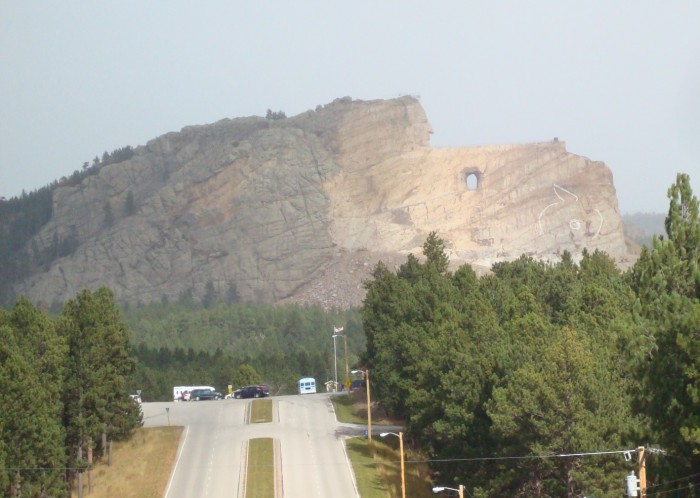 Crazy Horse Memorial
This is Rapid City South Dakota's other famous carving.  Unfortunately, only the face of Lakota Chief Crazy Horse has been carved to date.  Work continues on today.  If the final carving looks like the model sculpture, it will be really cool.
The history of Crazy Horse Memorial is really fascinating.  For one, the sculptor of Crazy Horse also worked on Mt Rushmore.  In addition, there is a history behind this memorial with the Lakota Native Indians that is very interesting.  Check out this picture and history slide show for more details.
For Pricing and admission, click here.
Custer State Park
If you don't have enough time to drive out to Badlands National Park (which I didn't), then consider a visit to Custer State Park.  Here you will see bison roaming (as you would at Badlands) as well as other wildlife.
In addition, check out Needles Highway, a winding roadway through the park with views of the forests and mountain.  The 'Needles' are the granite spires and pillars that have eroded over time.   Drive through the Needles Eye tunnel if your car is small enough lol.  As well, check out the Cathedral Spires which are a grouping of 'needles'.
This scenic drive will take you to Sylvan Lake and the unique rock formation formed from the inclement weather.  I have to admit, it was extremely windy here and in general in Rapid City in late October.  Sylvan Lake is considered the crown jewel of Custer State Park.
The topography here is really interesting and distinctive.  To me it fits in perfectly with the other creative or quirky attractions in Rapid City like Crazy Horse and Rushmore.  I only mean that in a positive way.  In fact, I really enjoyed this spirited and cultural aspect of Rapid City.  These unique attractions are only found here in South Dakota which makes a trip here to be so worthwhile.
I'd recommend Custer State Park as a relaxing, nature-oriented and fun attraction.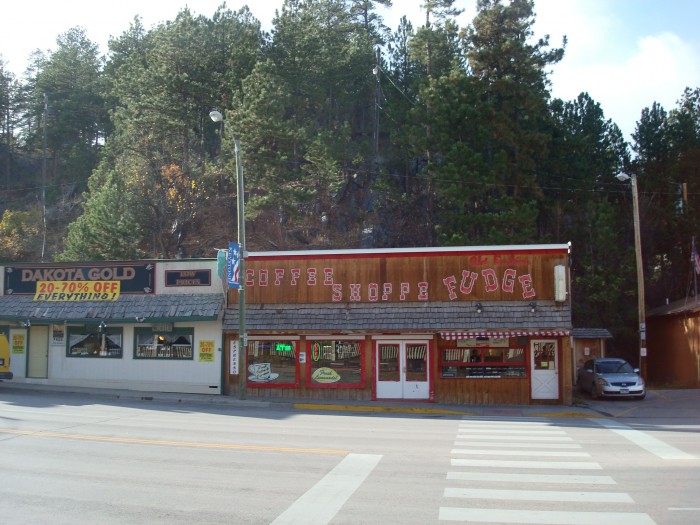 Keystone Town
While driving to Mt Rushmore National Park on Hwv 16A, visit Keystone Town in the Black Hills, SD.  If you are driving really fast, you may zoom past it as it's only a mile long.  It's a town focused on South Dakota items.  Do stop by the Rocky Mountain Taffy Shop for tasty treats in the shape of Rushmore or good ole fashioned candy.  This used to be called Coffee Shoppe Fudge store/café a few years back (pic above) but it looks like it got a makeover.  I really like the feel of this small town (population 337 per the 2010 census).  Also, there are souvenir shops with Black Hills, South Dakota and Rushmore themed items lining the street.  Fun stop.
More fun things to do near Rapid City SD
List includes the Presidential Wax museum, Bear Country USA, Badlands National Park, Big Thunder Gold Mine and 1880 Train.  I wasn't able to visit any of these (except the entrance to the wax museum).  However, if I was in the area again, I would visit any of these places.  Thus, I don't have a recommendation either way but they could be worth checking out.
Custer State Park
Crazy Horse Memorial
Keystone Town - Taffy Candy Shop