Venice is a city surrounding by water, connected by bridges with no cars allowed.  It is truly unique and no pictures or words can really do justice to the feeling you get when experiencing this special place.
My advice to those visiting Venice for the first time is to wander around, get lost, have a map but refer to it sparingly and to just absorb the vibe of the city.
A couple of Venice Italy highlights: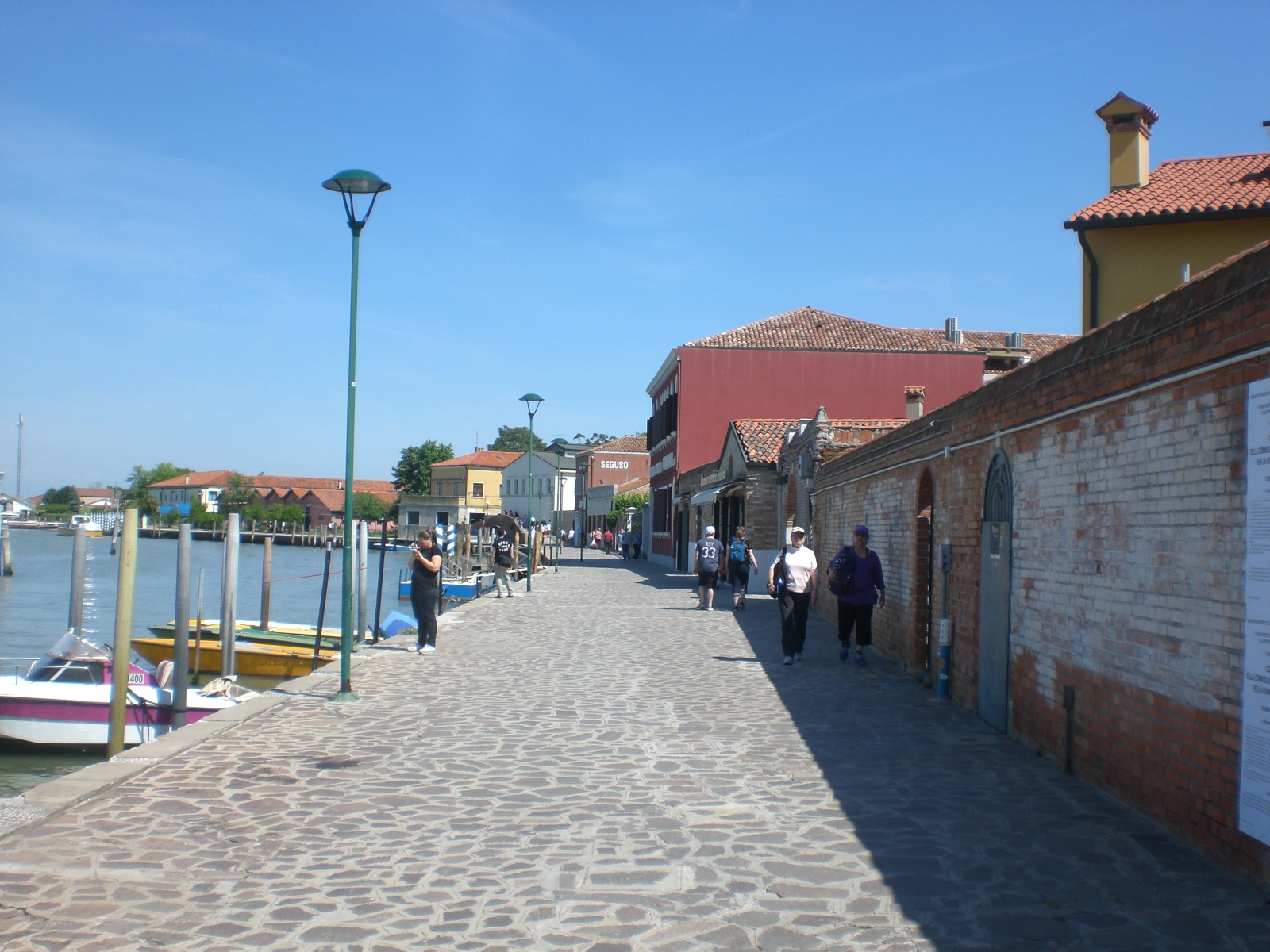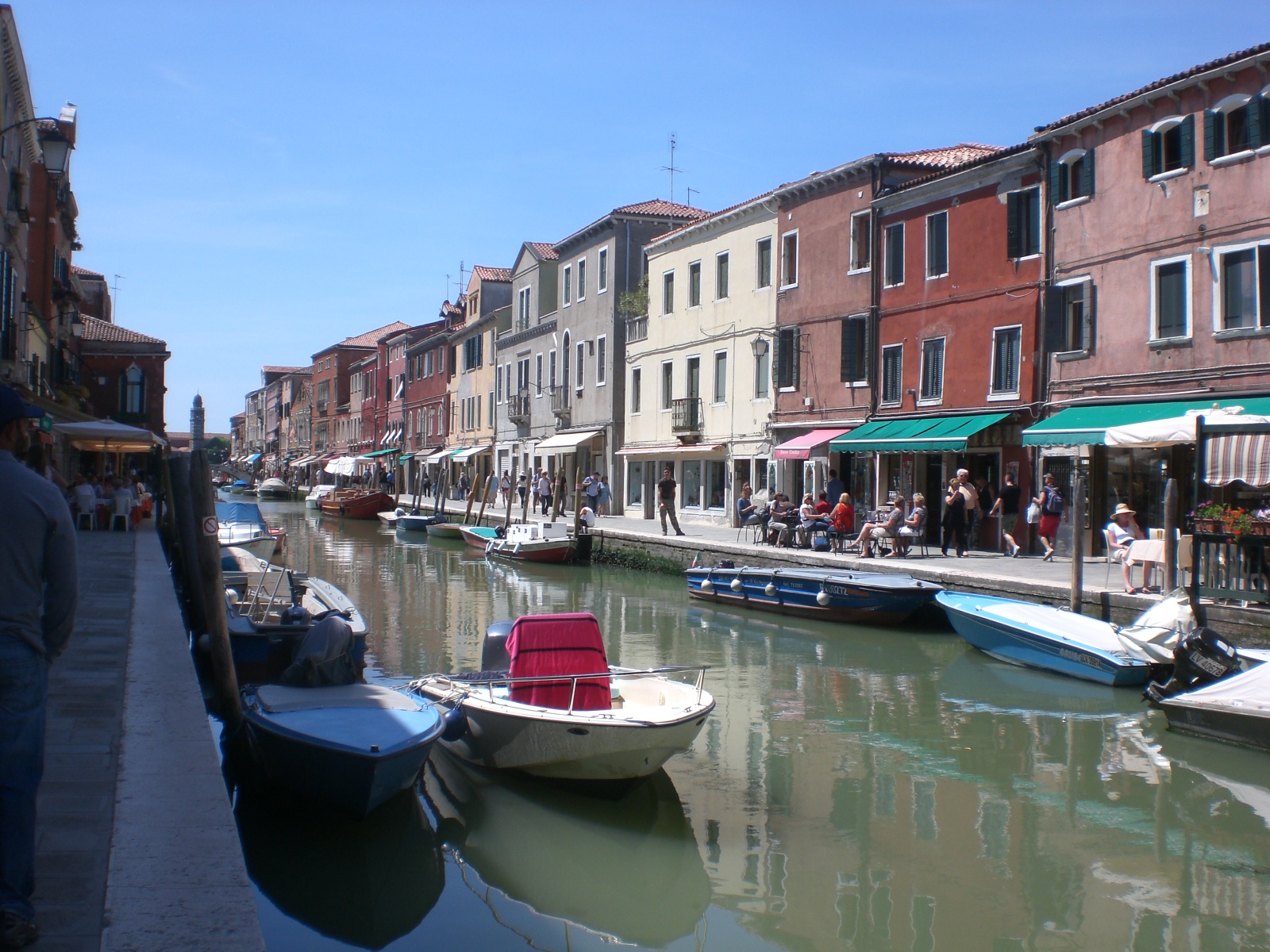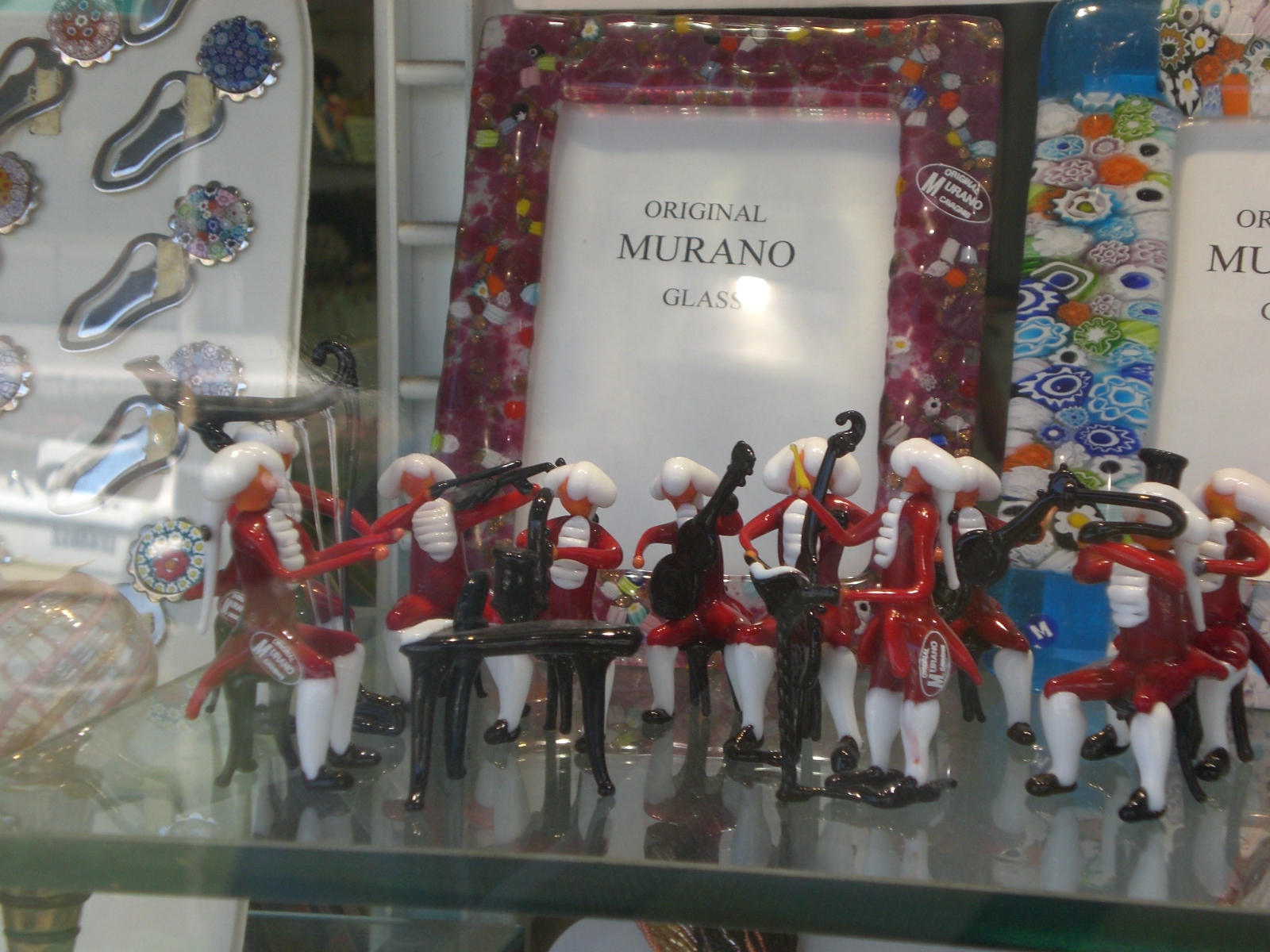 Murano Island
I took vaporetti (line #4) out to Murano Island as I had not visited this island in my previous travels to Venice.  After disembarking the ferry, I walked into the town where they have numerous glass-blowing kiln companies.  Many of these kiln companies offer a free demonstration of how they make Murano glass.
I attended one which really showcased how skilled an artist has to be to create the glass pieces found on the island.  Some of the artists shared that they had spent years as an apprentice before they could even create certain pieces.
As you walk through town, you'll find numerous retail stores selling Murano glass pieces.  It's a good place to shop for souvenirs which include paper mache masks, lace, paper, etc.  There are also cafes along the way.
I found the Murano glass pieces on Murano to be slightly less expensive than the mainland.  As well, many of the pieces are stamped with Made in Murano in the glass (when it was hot and being made).  According to some of the shop owners, that is their mark of authenticity.
On the mainland you will find glass pieces without this stamp.   I cannot say for certain their origin – they may be made in Venice or they may be made in Asia/China.  All I know is that if you are going to pay for Murano glass, make sure it is indeed Murano glass.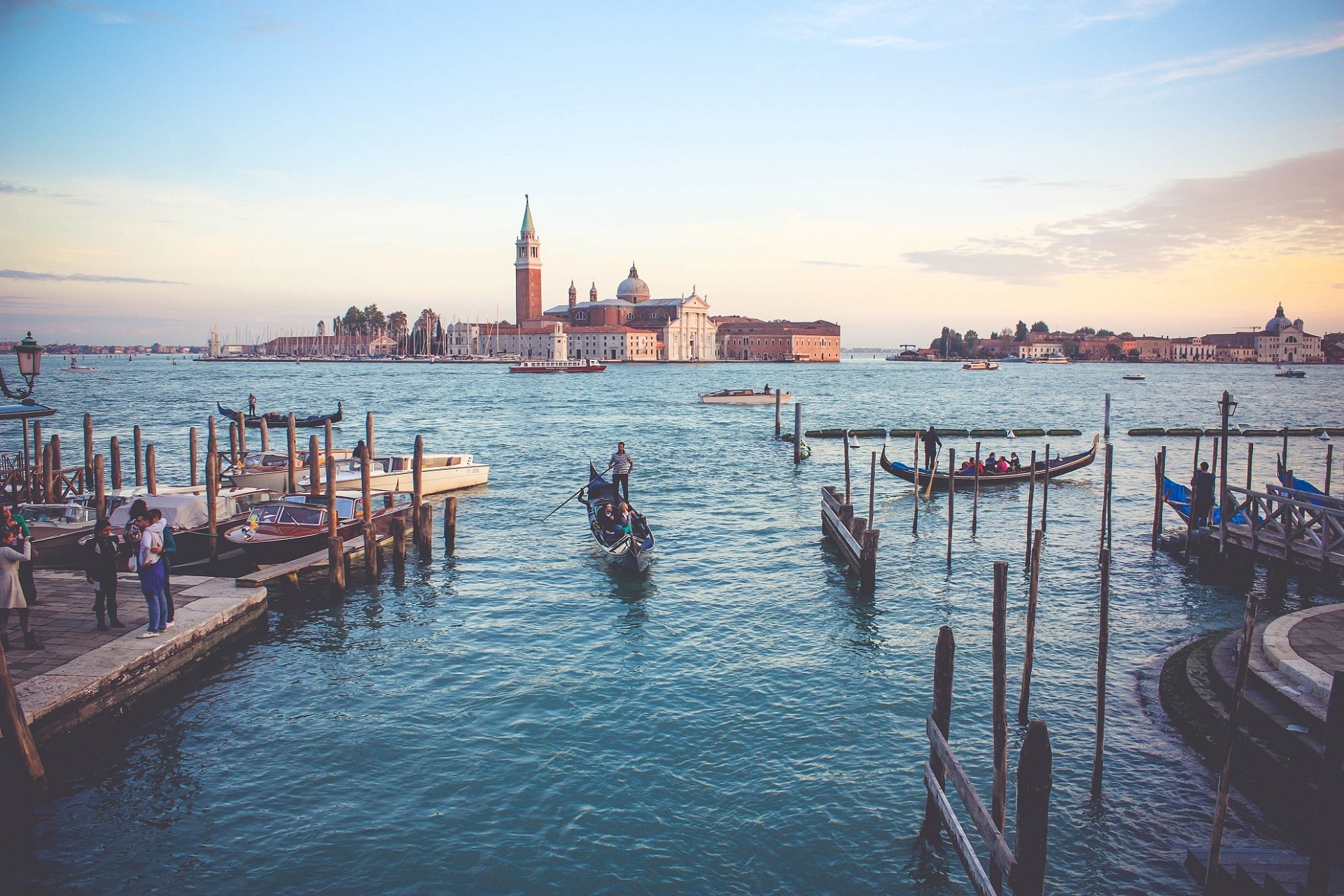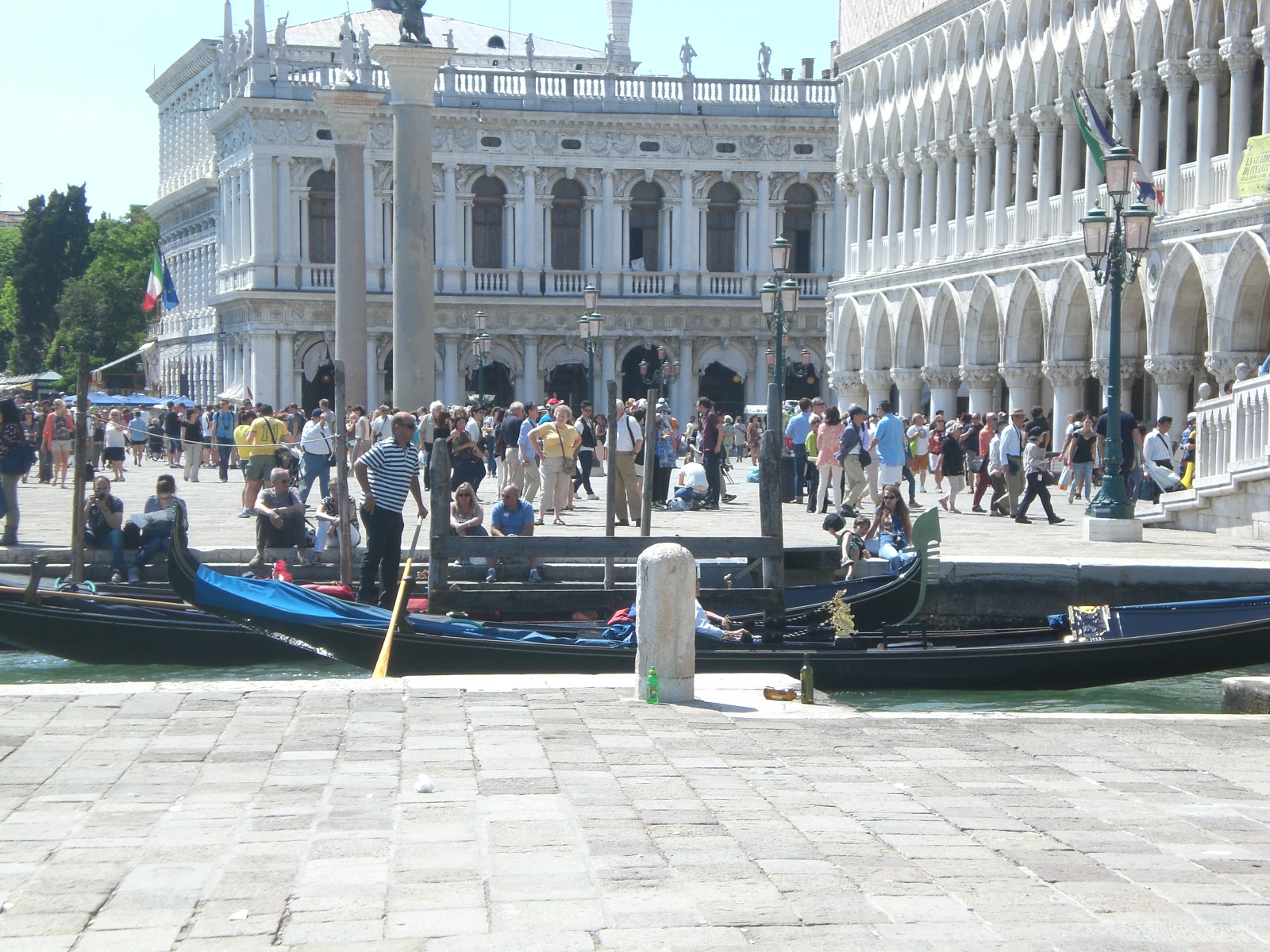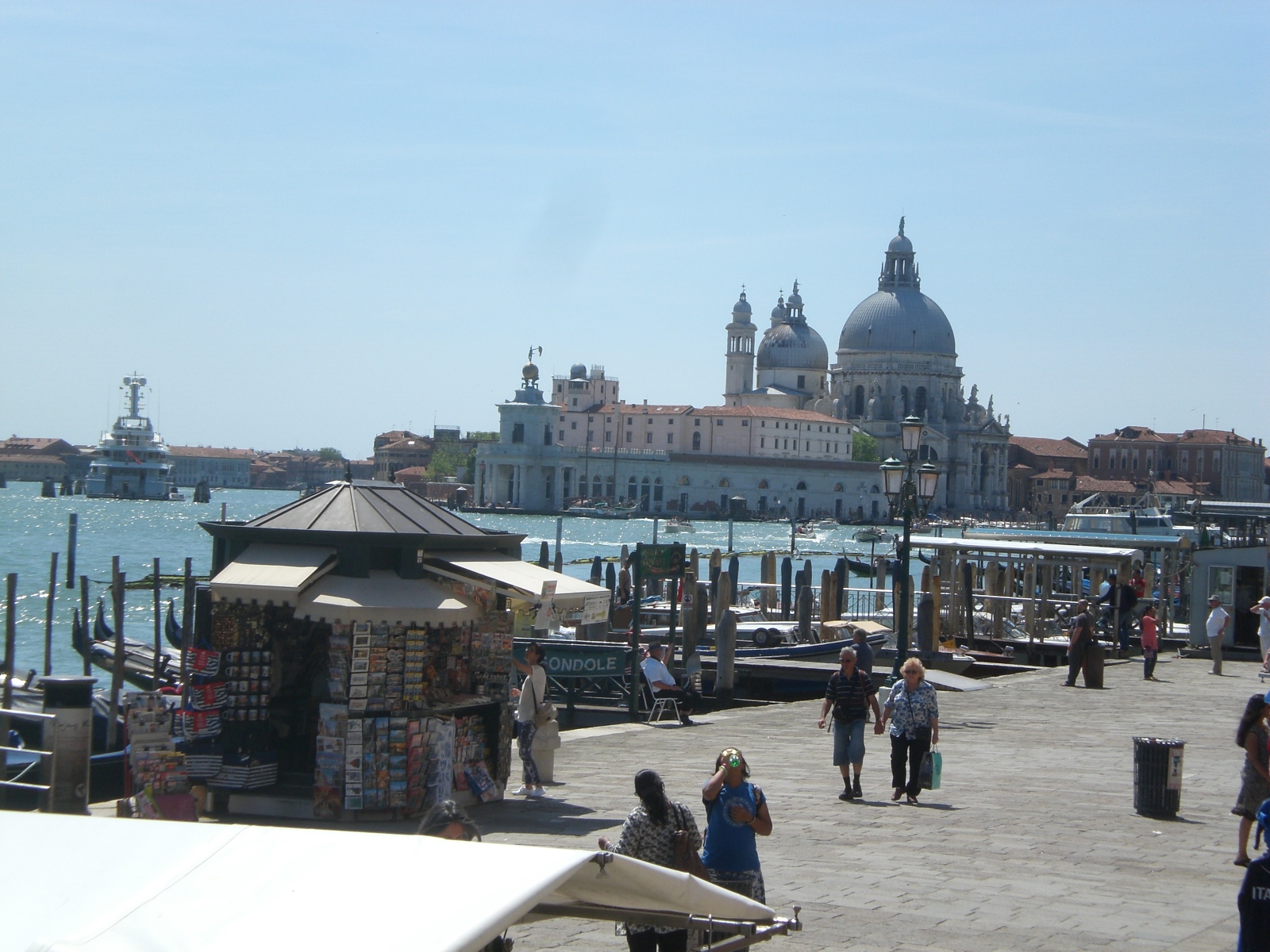 Piazza San Marco (aka San Marco's Square or St. Marks square)
San Marco is Venice's most famous and crowded square.  Filled to the brim with tourists and pigeons (it is illegal to feed them, sorry), San Marco sits near the water's edge with a stunning view of the Grand Canal.  This is a major picture taking spot.
As you walk along the perimeter, there are numerous artists painting and selling their work.  Don't be afraid to bargain.  I did and got a slight discount.  Some however will not come down in price.  It's a function of supply, demand and time.  However, don't leave behind a wonderful memento for a few euros.
In San Marco square is concentrated quite a few sights:
First, the Basilica di San Marco (aka St. Marks cathedral).  Admission to the cathedral is free.  There is usually a long line to get in as was the case when I visited.  If you can make it out here early, do so to get a jump on the line.  To skip the line during peak times (Apr 1 – Nov 2), make a reservation online for $2 euros.
If Mass is in session, you may attend.  However, tourists aren't allowed to enter and view during that time.  Dress code is adhered to strictly.  There is also a museum, treasury and golden altarpiece.  Admission prices vary for these different areas.  Read more about the history at basilicasanmarco.it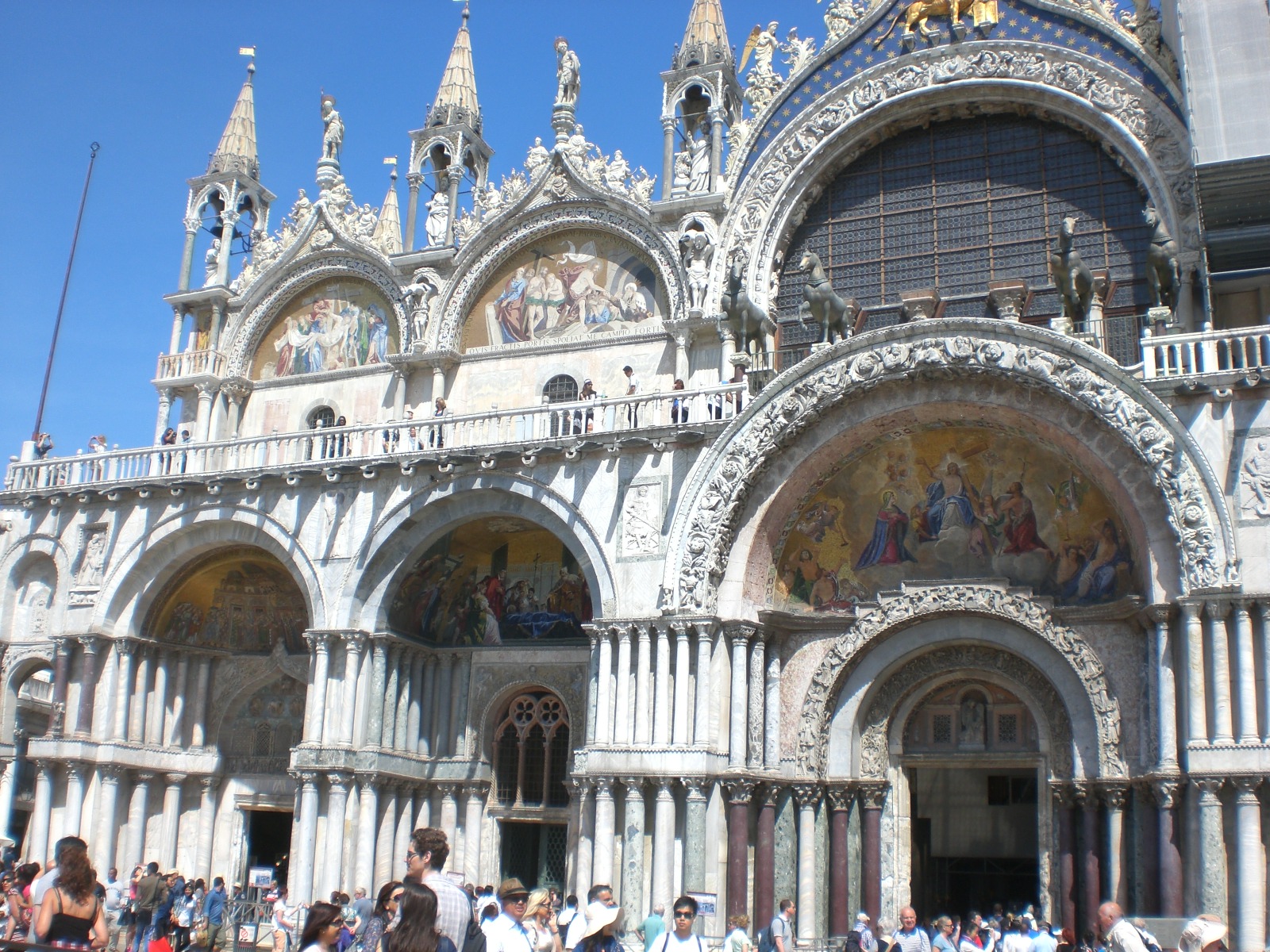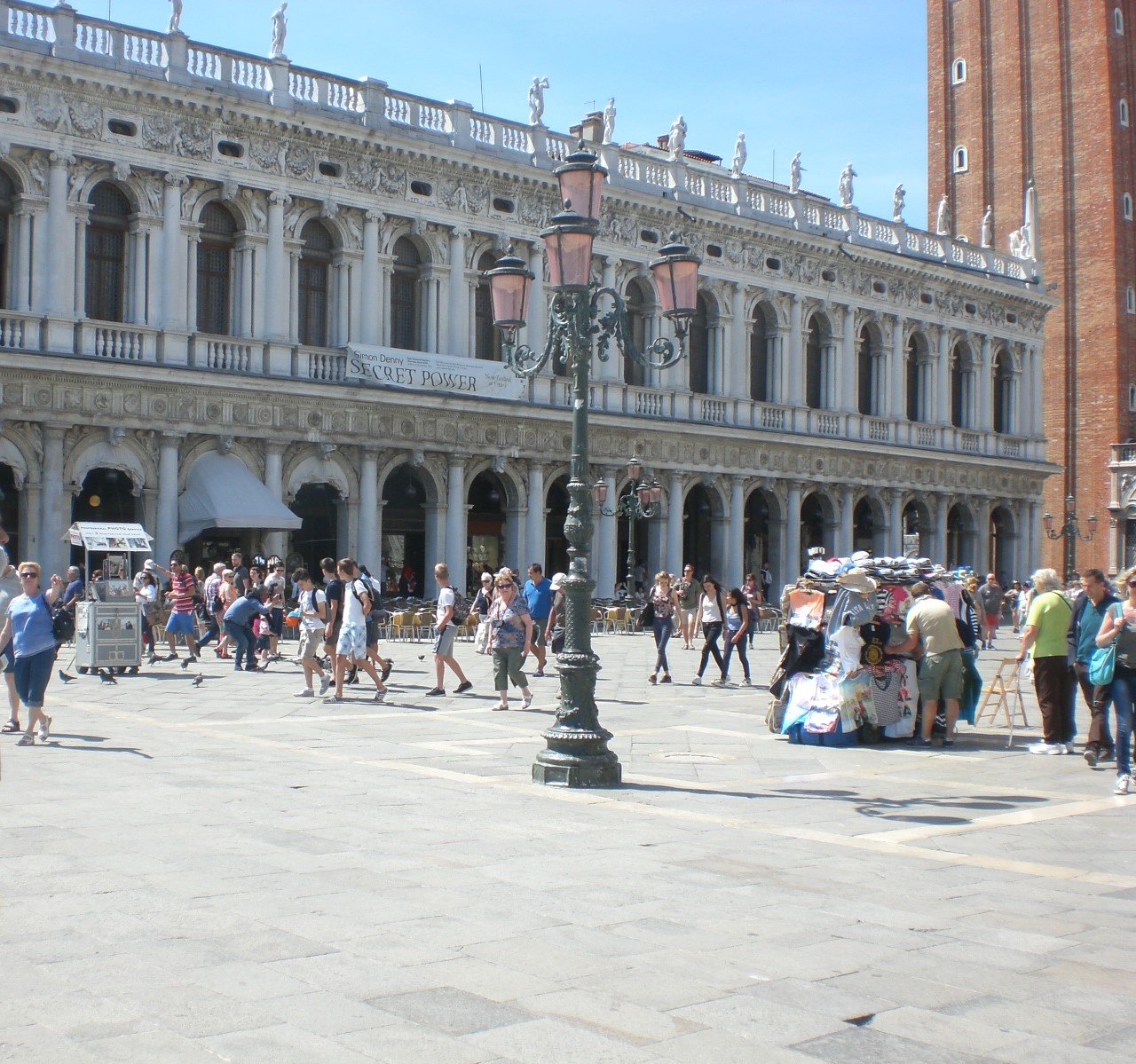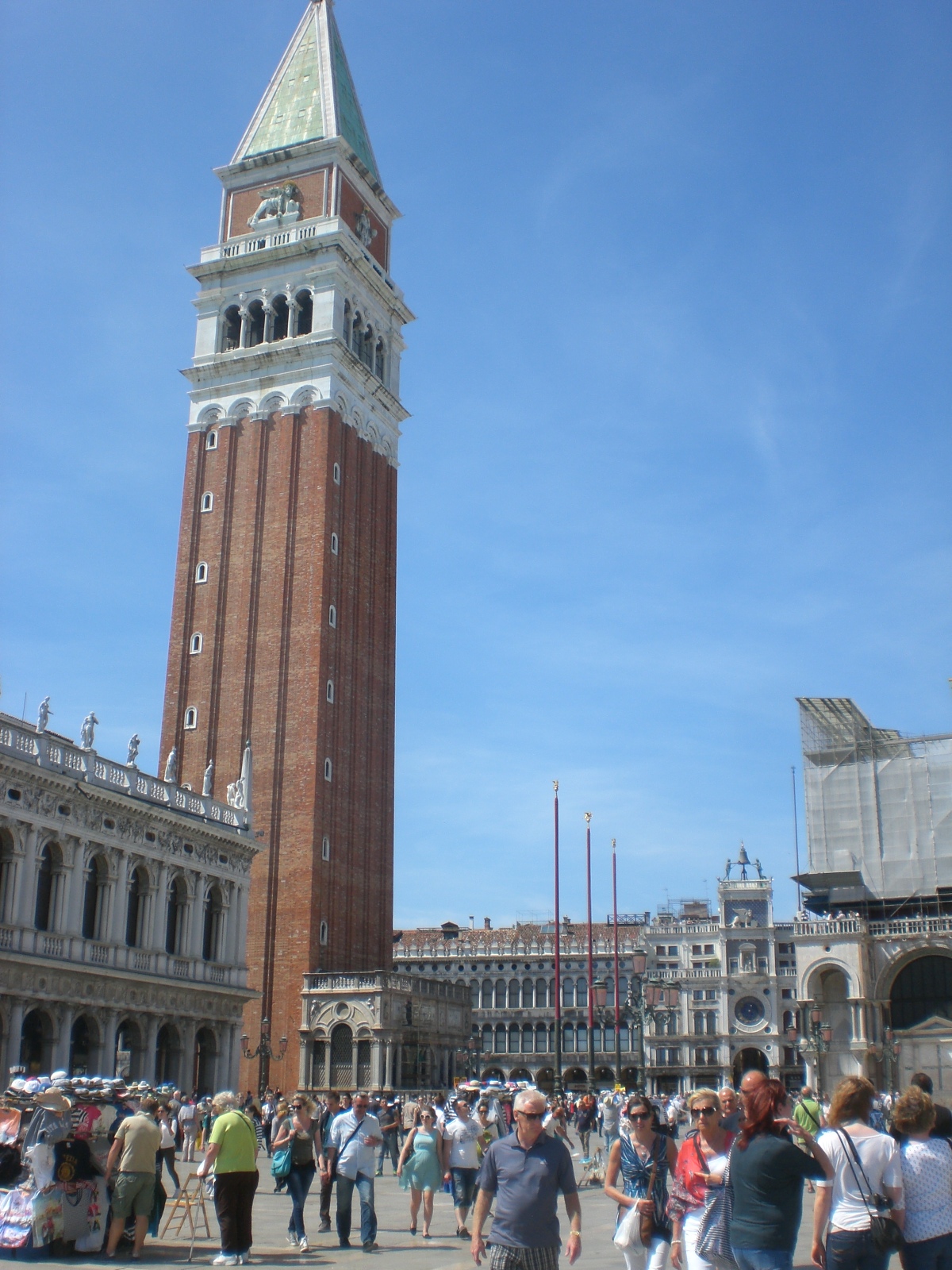 In the center of the square is the Campanile/ bell tower which you can ascend for a beautiful view of the St. Marks square and the surrounding roof tops.
Admission is $8 euros.
Next to the basilica is the Doge's Palace (Palazzo Ducale).  There are many rooms in the palace with art work throughout.  Visit this site for more information: palazzoducale.visitmuve.it
Admission to the Doge's palace is only granted if you have purchased the Museum Pass or the St Marks Square Museum Ticket. 
To get an understanding of what you are seeing, book a tour or audio guide at the ticket office ($5 euros – single / $8 euros – two persons).
The Bridge of Sighs – an enclosed bridge from the palace to a prison – is on the tour of the Doge's palace.  If you're not on the tour, you can view the bridge from the outside as well.  Walk east from St. Marks square towards the San Zaccaria ferry stop (Grand Canal) over the first bridge.  Alternately, walk west from the Zaccaria ferry stop – view from 2nd bridge crossing.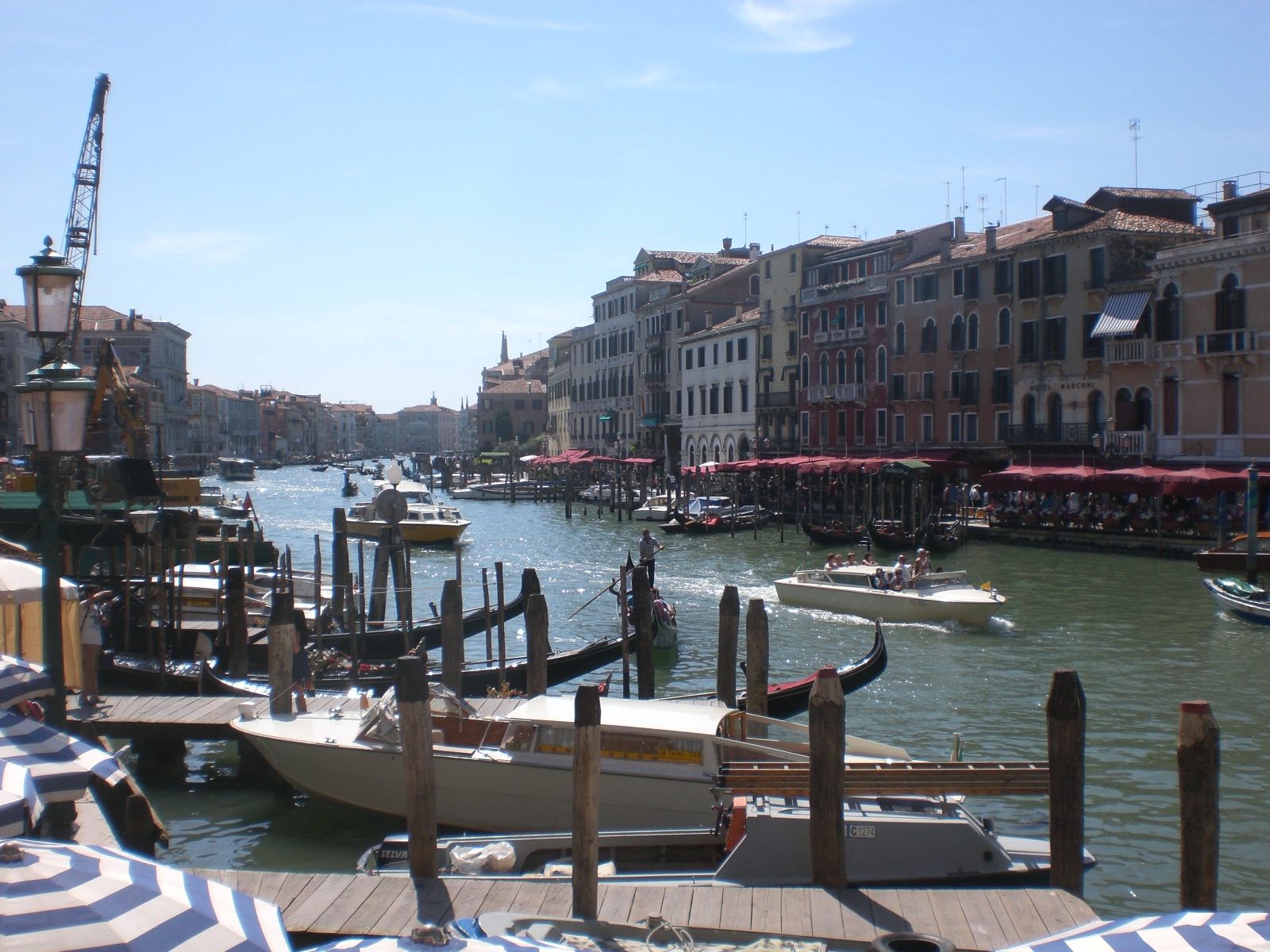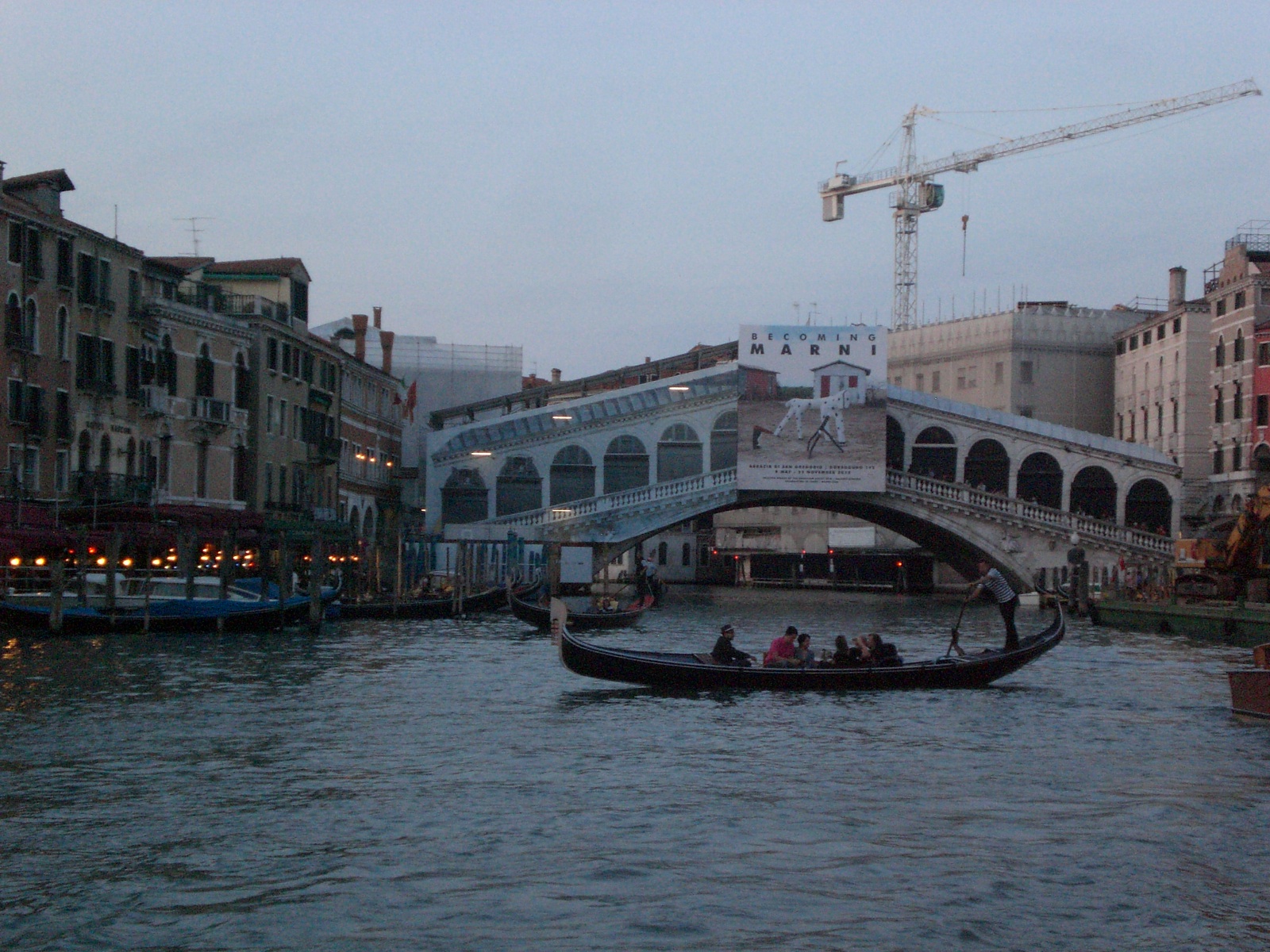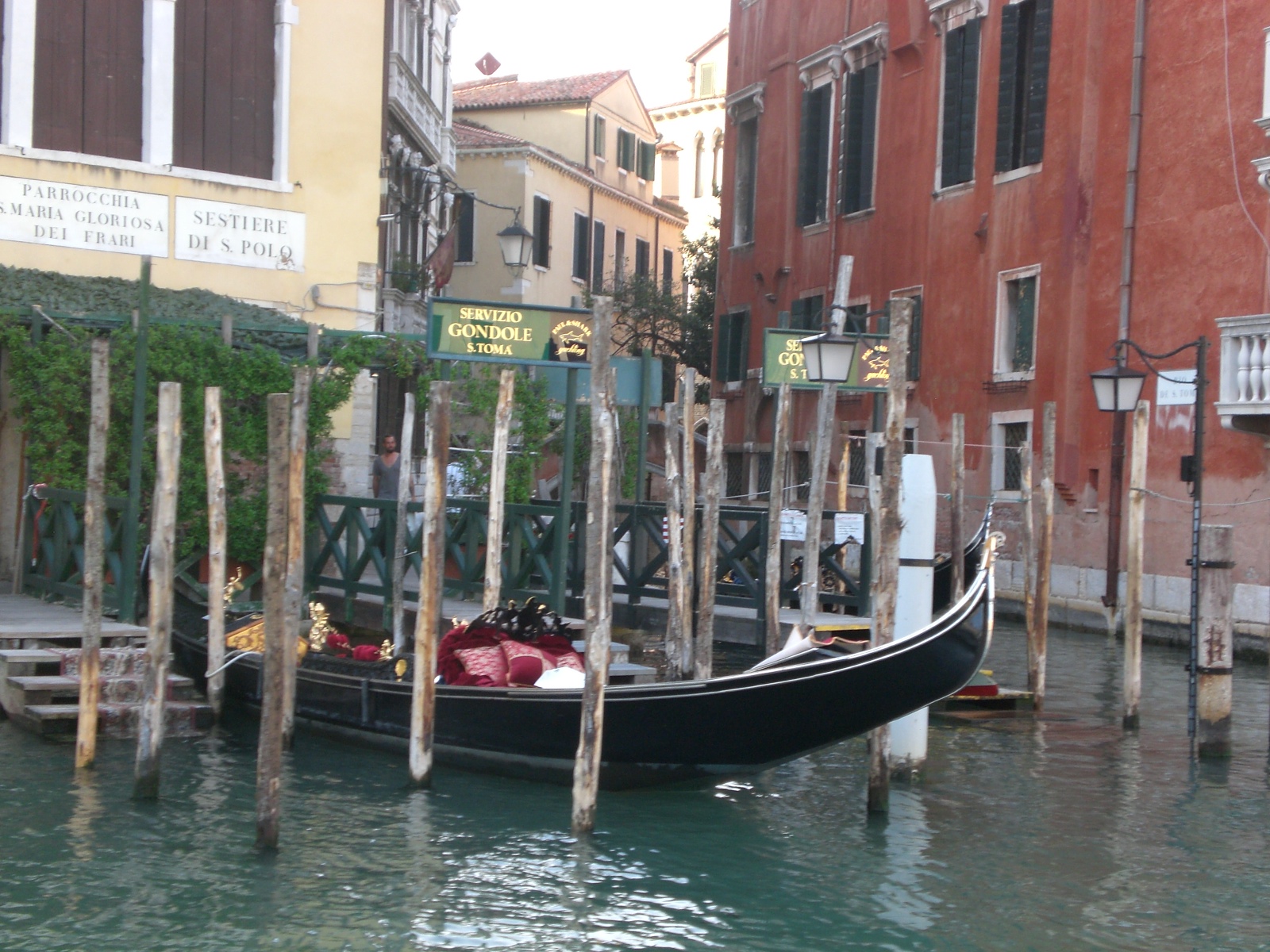 Rialto bridge
This is Venice's most famous bridge.  It is a very wide bridge connecting two neighborhoods.  To climb to the middle/center and look out onto the Grand Canal is beautiful.  However, there is no shortage of tourists doing the same thing and many overpriced souvenir shops nearby.  I had a pizza at the foot of the bridge while looking out onto this very crowded scene.  If you are on a gondola ride or taking the ferry (stop: Rialto), it's also a different perspective of the bridge.  It's beautiful but very, very busy.
Ca' d'Oro
This is a neighborhood/district (ferry stop: Ca' d'Oro) where I disembarked and walked around.  I really enjoyed this section of Venice which seemed to be not as crowded as other parts.  That may have been the time of day (afternoon) or location which isn't so close to San Marco's.  The Ca' d'Oro (translation: golden house) is an art museum called Galleria Giorgio Franchetti all Ca' d'Oro.  Unfortunately, I didn't get a chance to view but the area was very pleasant to wander and get a gelato.
For more info, check out: cadoro.org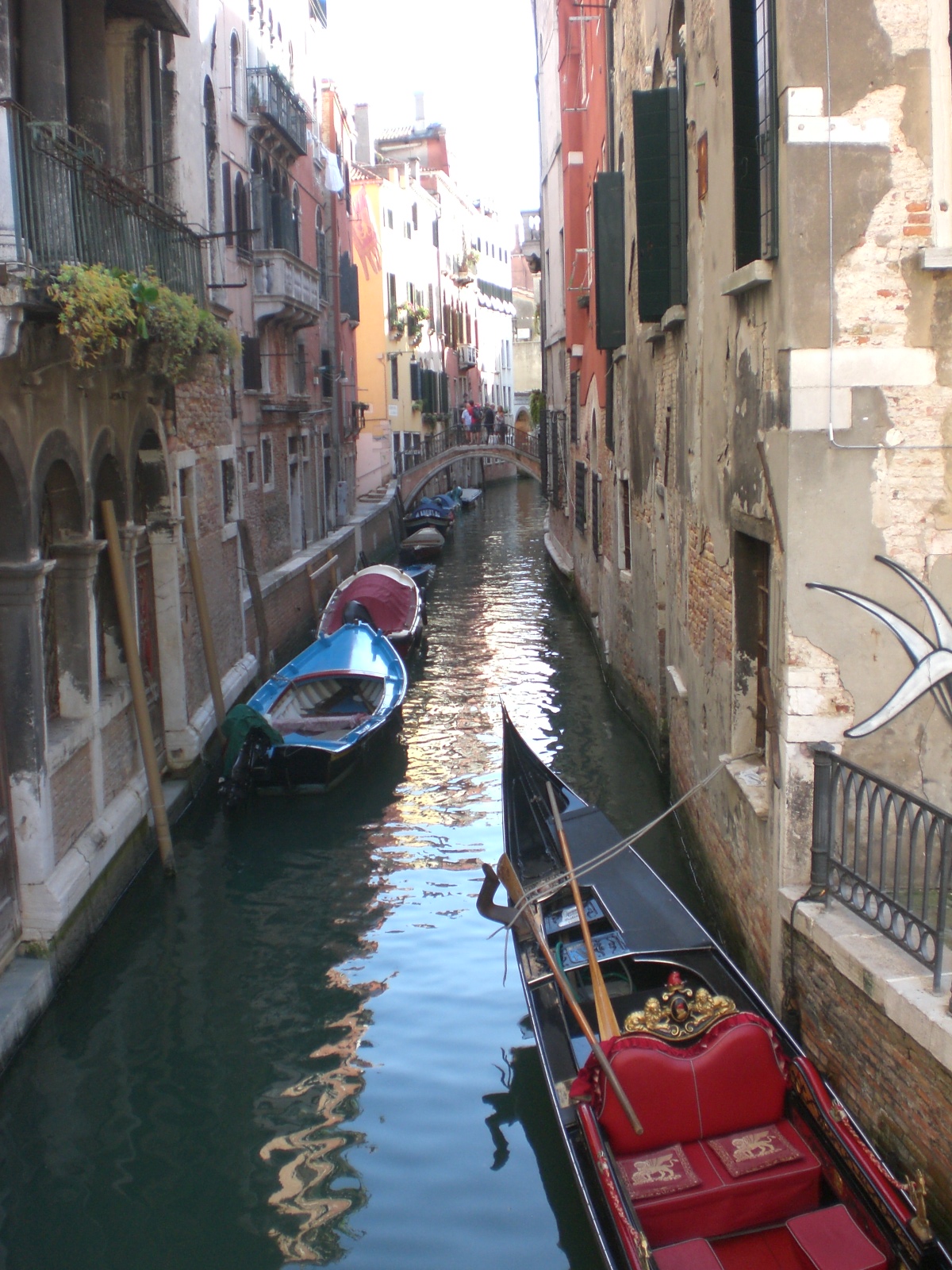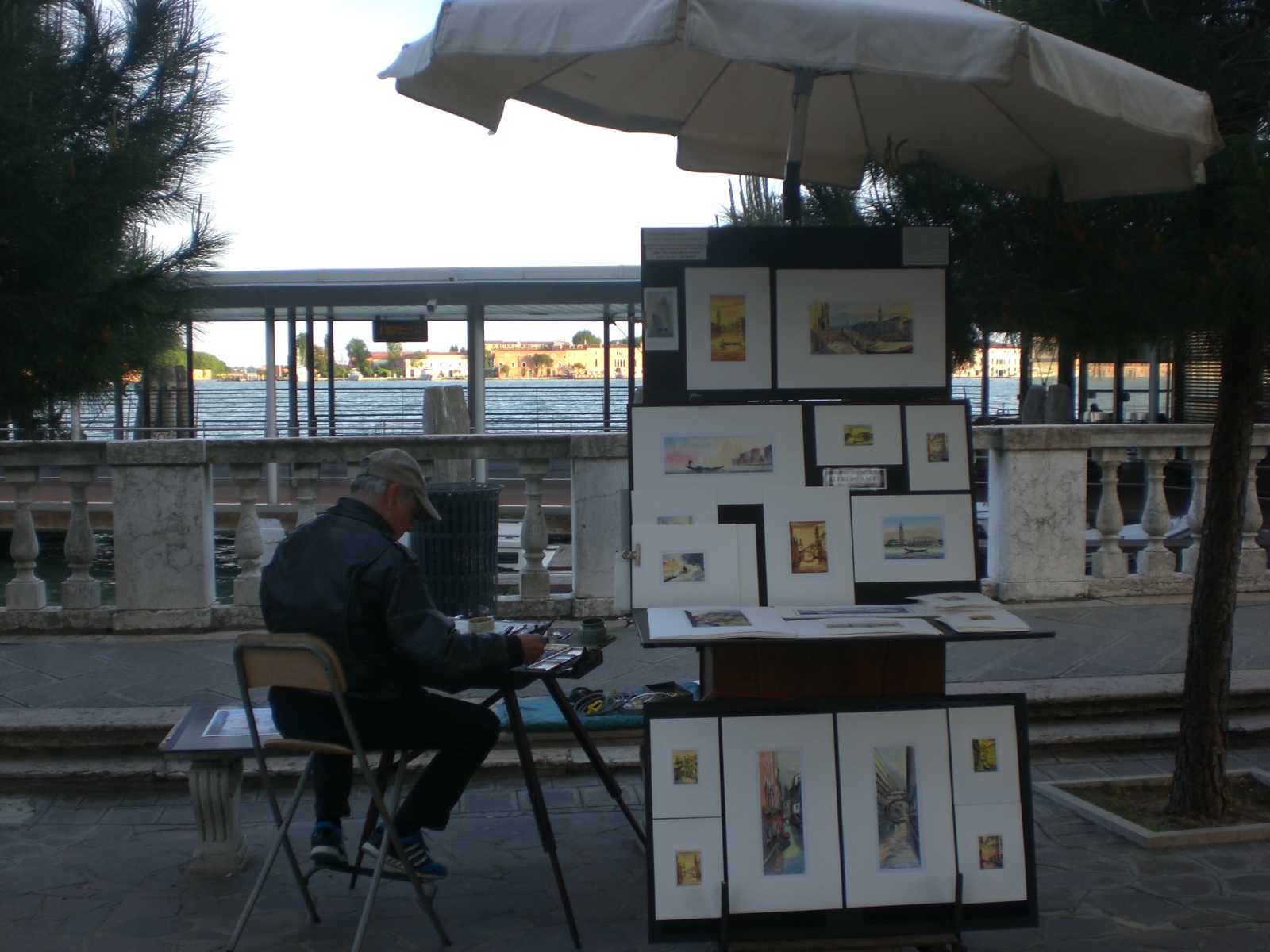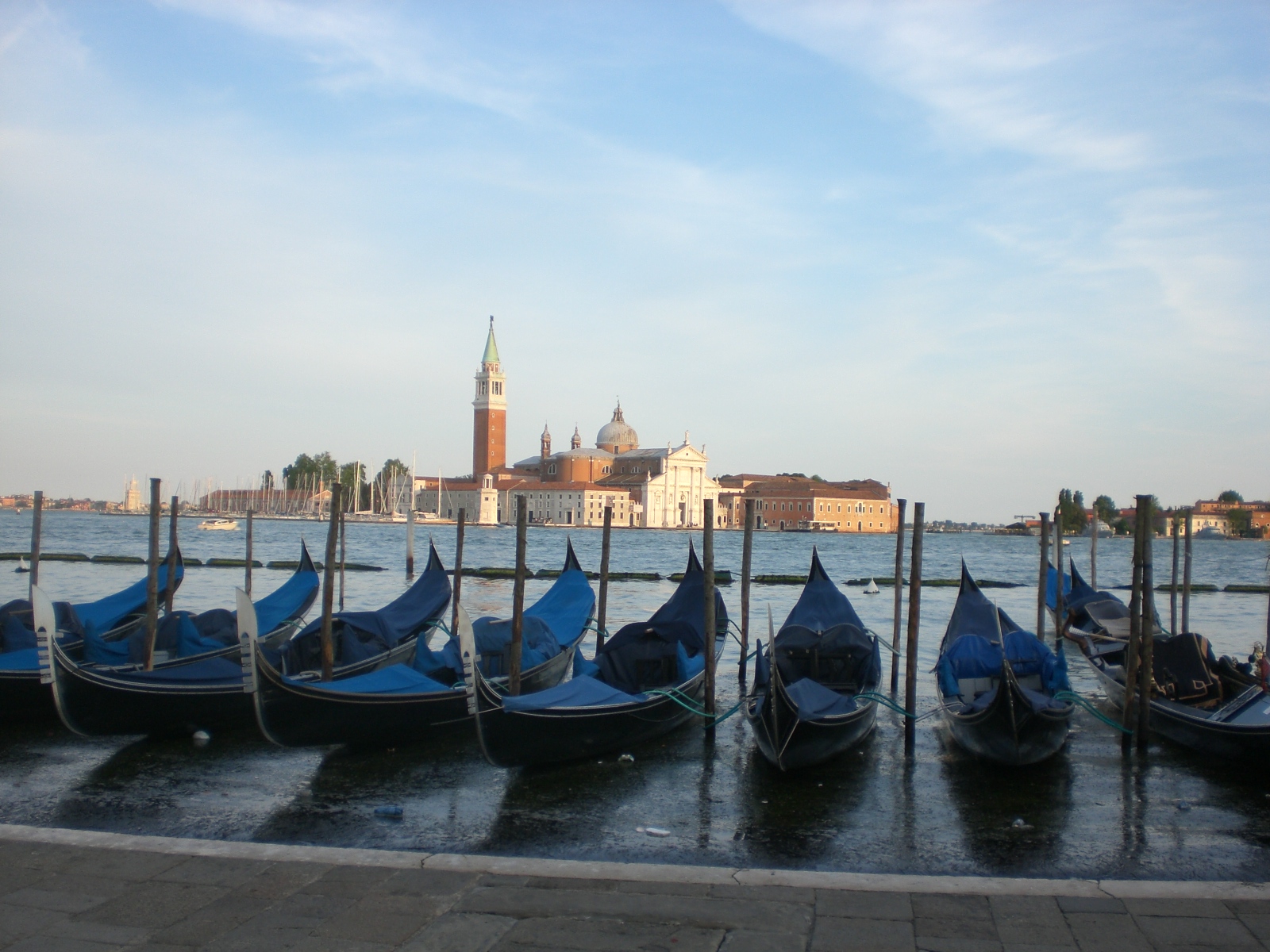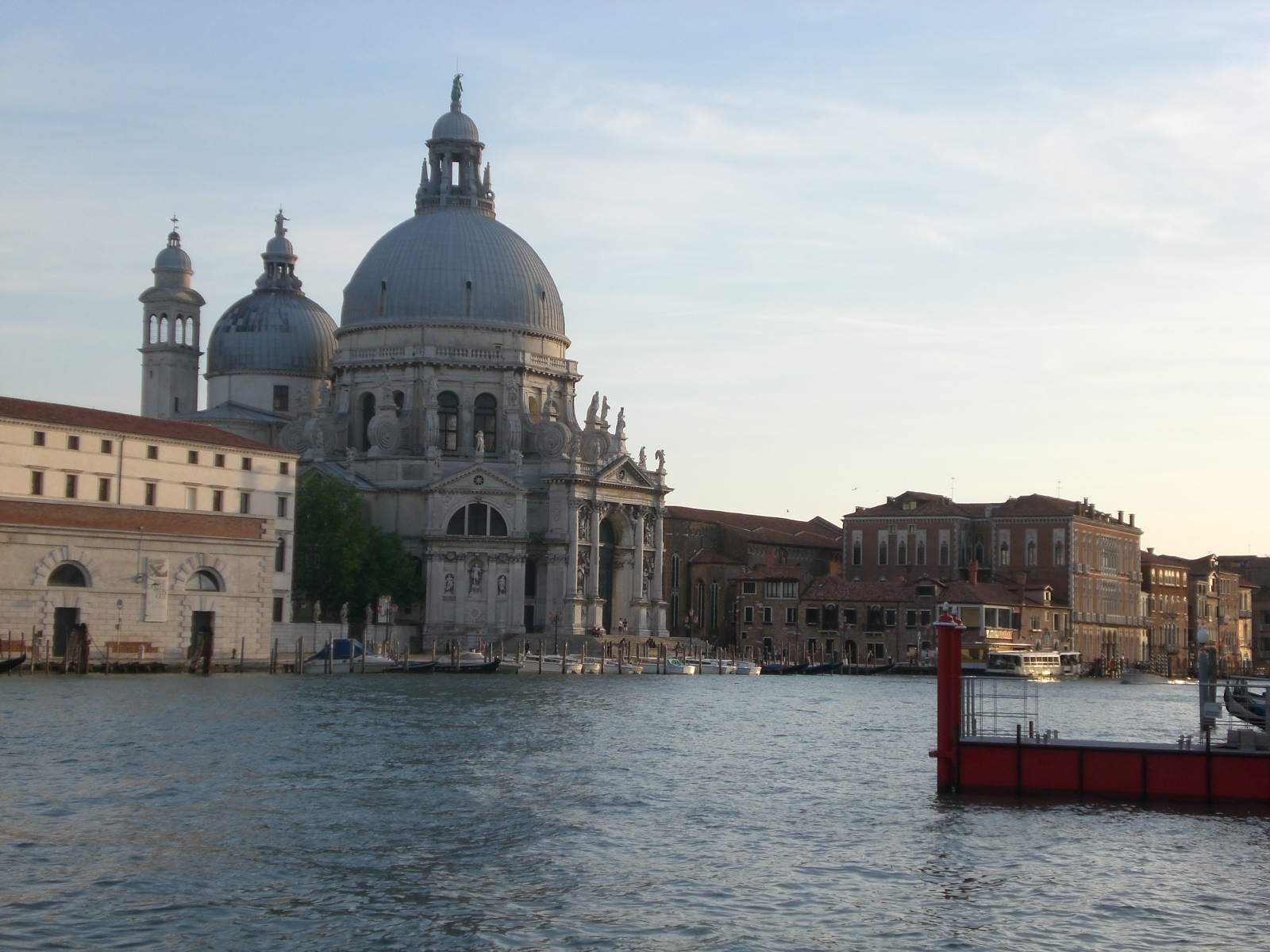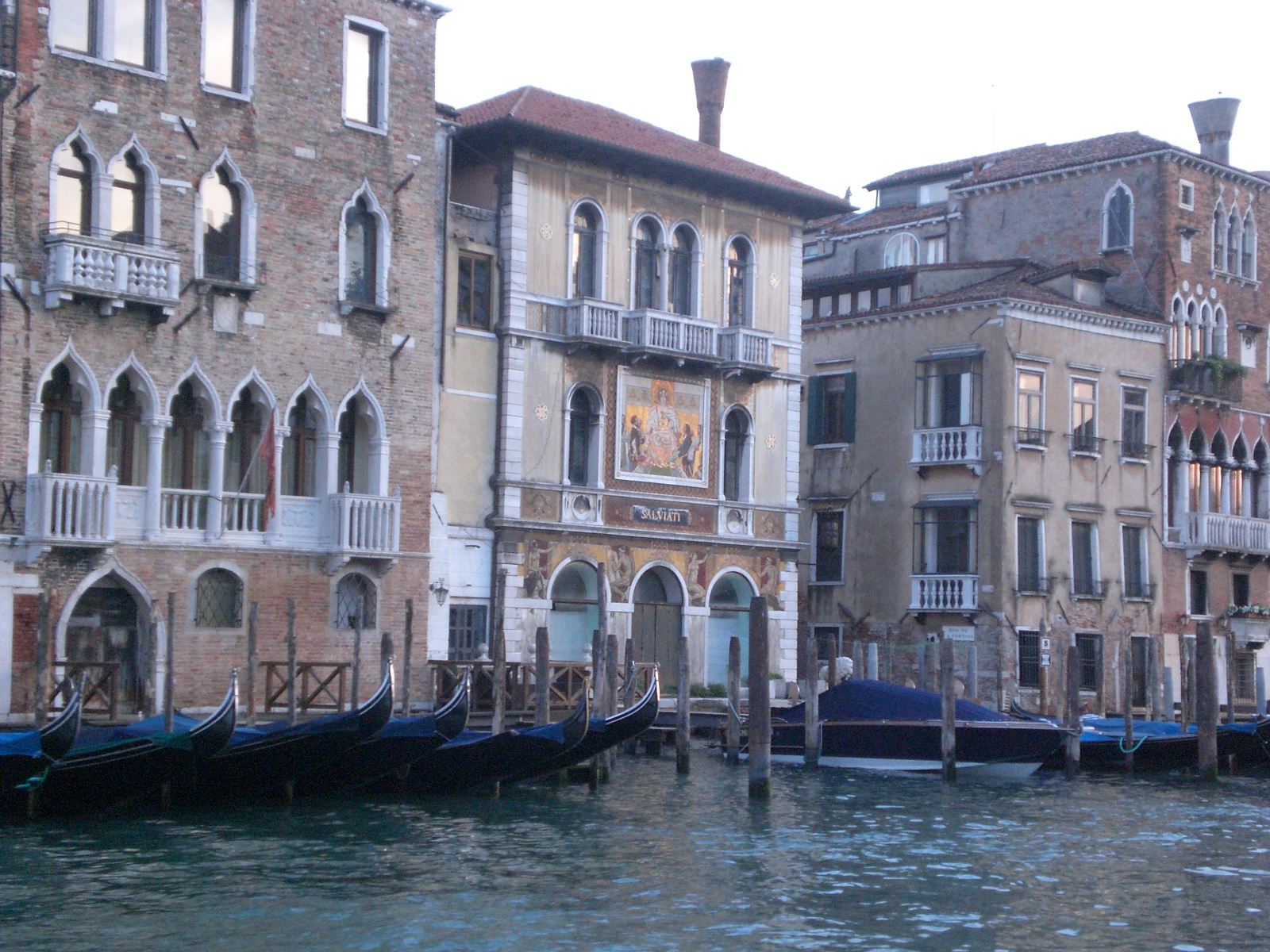 Grand Canal
Lastly, taking a ferry ride, along the Grand Canal, from San Marco's square to the train station (line #1 vaporetti) is a wonderful way to enjoy Venice.  I took this ride right before/around sunset and highly recommend it.  Try to sit in the front of the ferry.  You'll cruise along, viewing the city of Venice from the water.  You will pass under the Rialto Bridge and see gondoliers steering their boats in the water.  Just lovely.  You can also do the reverse trip from the train station to San Marco's.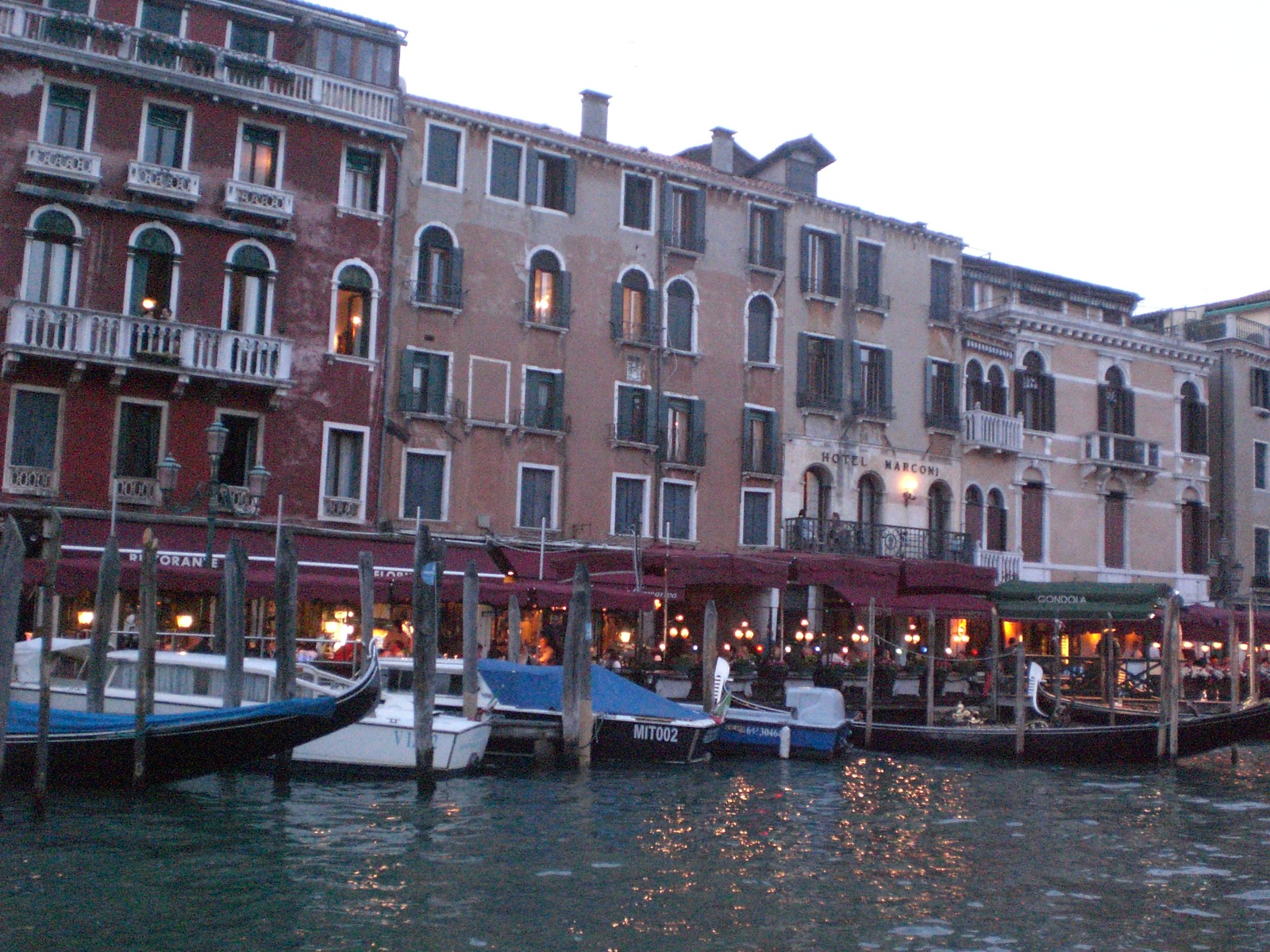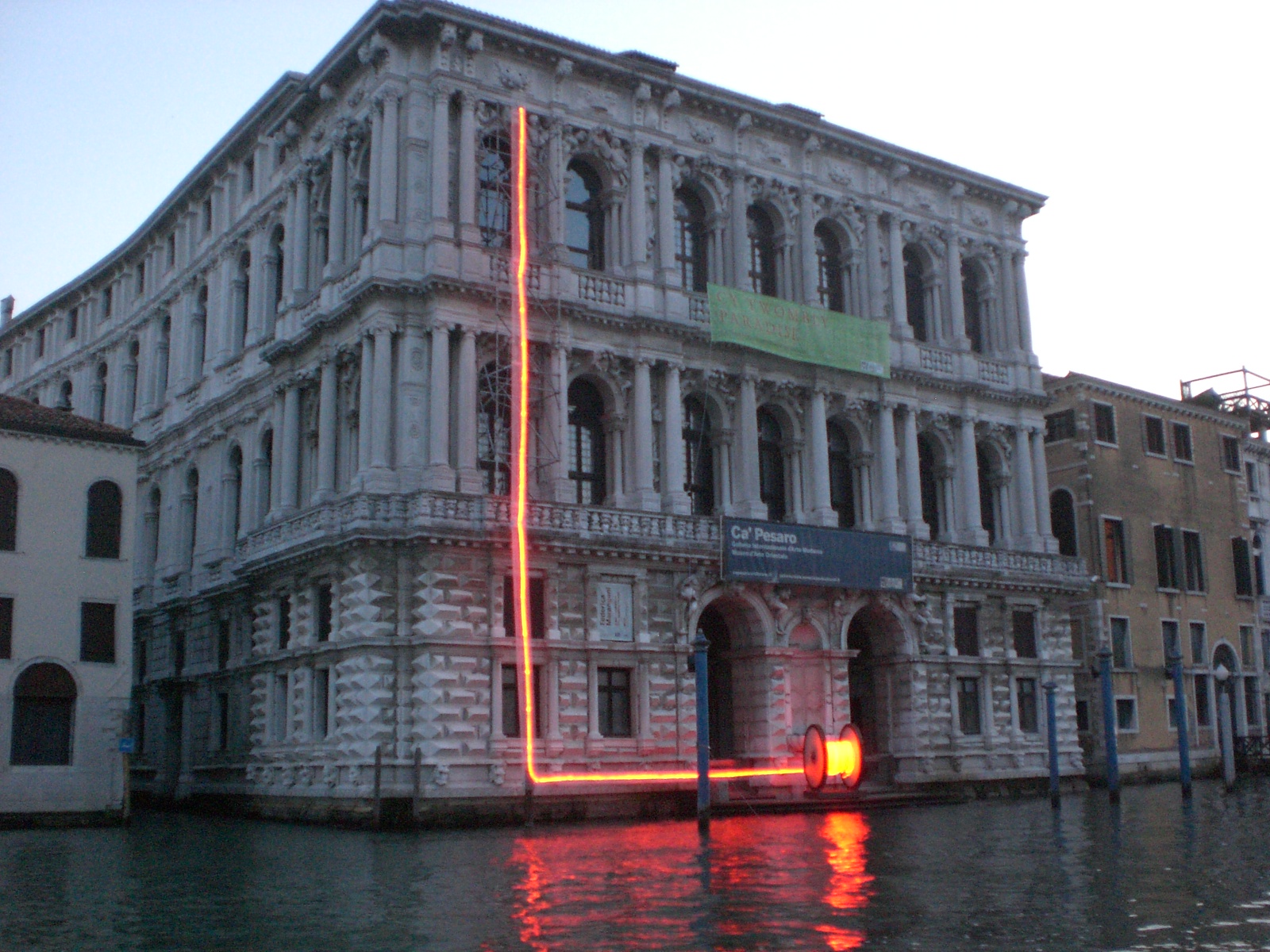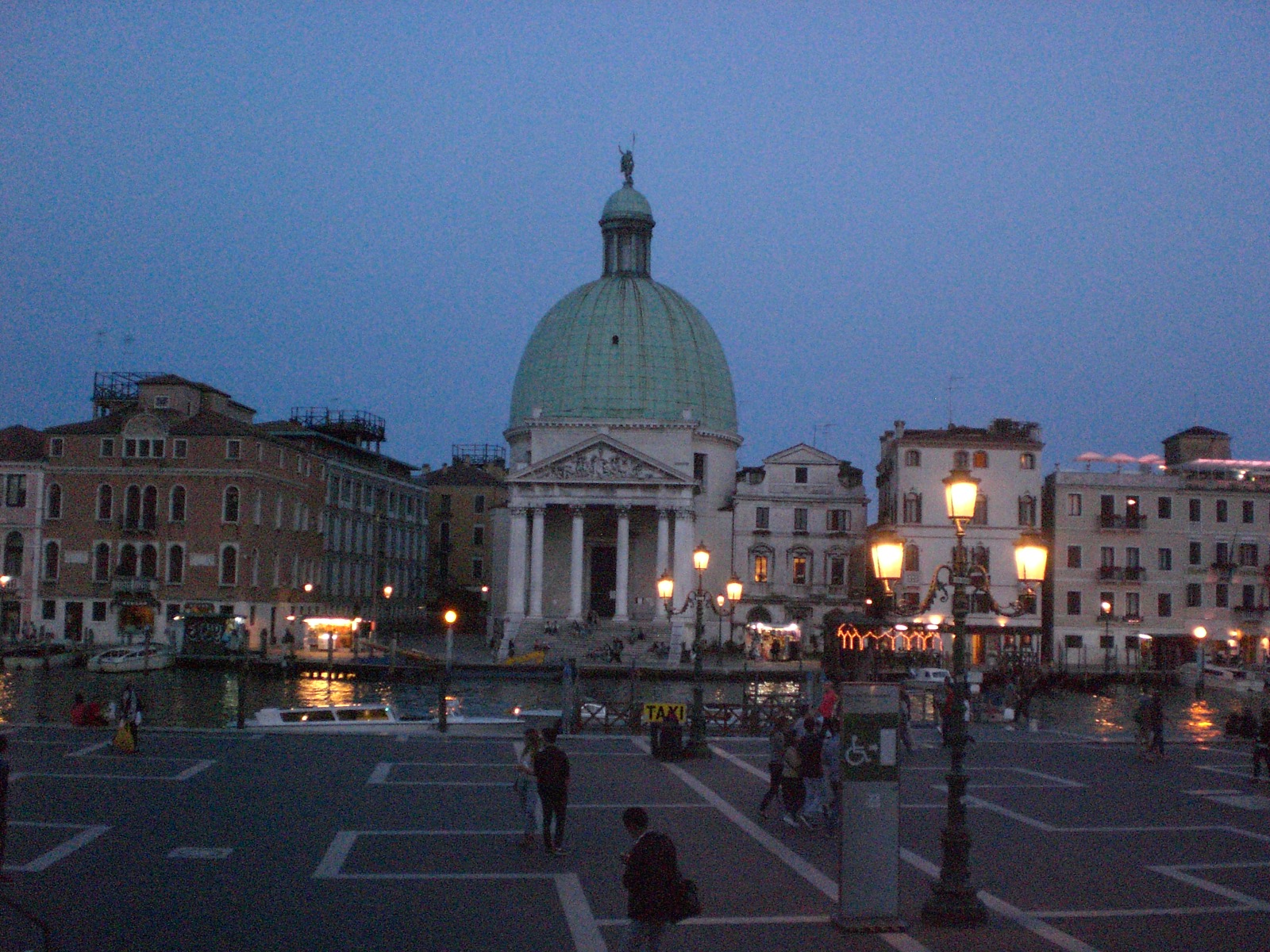 Getting to/from:
Airport:  Venezia Marco Polo is Venice's closest airport.  From the airport, take Aerobus #5 (ACTV.it) or a shuttle bus to Piazzale Roma.  This is where all buses coming to Venice convene as it is the closest and last stop for bus transportation in Venice.  Either bus is $8 euro one way.
For water transportation from the airport, check out these links:  water boat (alilaguna.it), a shared water shuttle (venicelink.com) or private water taxi.  There are a lot of options: check venicelink for all.
Train:  If arriving by train, confirm that your final stop is Venezia Santa Lucia and not Venezia Mestre (which will require a transfer or train to get to Venice).  Upon arriving, exit the station and you will be facing the Grand Canal with options to walk, shop, eat or take a vaporetti.   In the station, there are some fast dining options and a reasonably priced souvenir shop in the center.
Bus: All buses convene, arrive and depart from Piazzale Roma.  You can't miss it – it's filled with buses.  It is a bridge crossing (Ponte della Costituzione) away from the train station, Venezia Santa Lucia.  There is also a parking garage to the right of this area (shown on map below with parking sign).
Internal Venice:
Vaporetto
The vaporetto is the public water ferry line.  From the train station, take the #1 or #2 line going left towards San Marco.  If you take the line going right, you will end up at Piazzale Roma (one stop over on #1).  Or you will take a much longer ride around the island on #2 (1+ hour).  Going left on #1 or #2 is faster and more scenic.  Check your line while waiting for the ferry as there are ferry maps and time tables/schedules posted.
While in Venice, I bought a $20 euro 24-hour pass to ride the vaporetti unlimited (including to Murano, Burano, etc).  I will say that I was never checked once for this ticket/pass.  It seemed that everyone just got on the vaporetti.  That said, I have heard that if checked and you don't have a ticket, there is a $52 euro fine (ouch!).  It just never saw anyone official around the docks or onboard who checked.  One way is $7 euro.
Water Bus Ferry & Taxi
To get over to Murano, Burano or another island, check the water bus ferry line and double check at the ferry stop that the selected island is a stop.  Also check the direction you are going so that you don't take the longer route.  When I went to Murano, I took line 4.  I can't remember if it was 4.1 or 4.2 but I do remember that it took a while to get over there (45 minutes minimum).  Maybe there was a shorter option that I missed.
You can also take a water taxi around Venice but this is a more expensive option. motoscafivenezia.it
Gondolas
Lastly, there are the gondolas, Venice's most famous mode of transport.  There are 12 main gondola stations in Venice (Piazzale Roma, train station, San Marco, Rialto Bridge, etc,) and some smaller stations.  During May in the daytime, expect to pay $80 euros (for 4 people) for 40 minutes.  In the late evening/night, expect to pay more.  $80 euro is the base for a ride up to 6 people.  Ie. if you have 2 people, you will still pay $80 euro.
Bell Tower - San Marco's Square
Piazza Roma - Bus Station & Parking