My trip to visit Mt Rushmore is one of my most favorite and memorable vacation jaunts.  I took this trip in late October 2010 with my sister near to my birthday.  It was fall weather and cold.  I was beyond excited to visit Mt Rushmore which I constantly referred to as "a slice of Americana"!  It was.  Mt Rushmore is one of those places that you see on tv but never really make an effort to go visit.  Hopefully, after reading my post, you will be inspired to visit Mt Rushmore. I promise you will not regret it.  I loved it.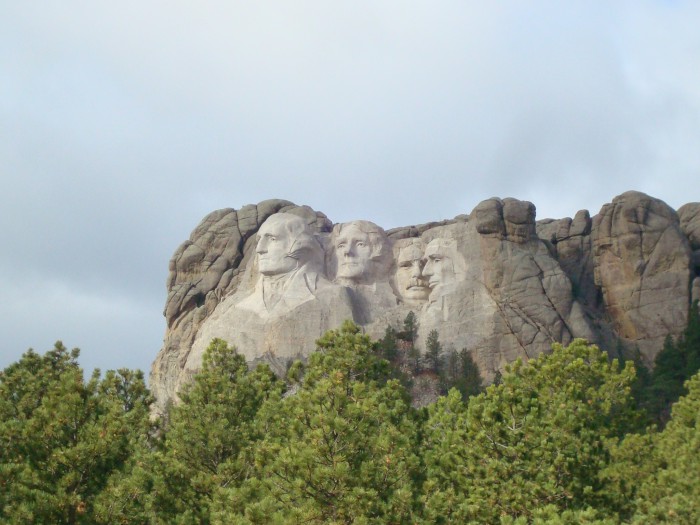 Beginning your visit Mt. Rushmore starts with parking your car at the Mt. Rushmore National Park parking. If you go during the fall, there should be ample parking. During the summer, it will be crowded. Entrance to the park itself is free but parking is around $10.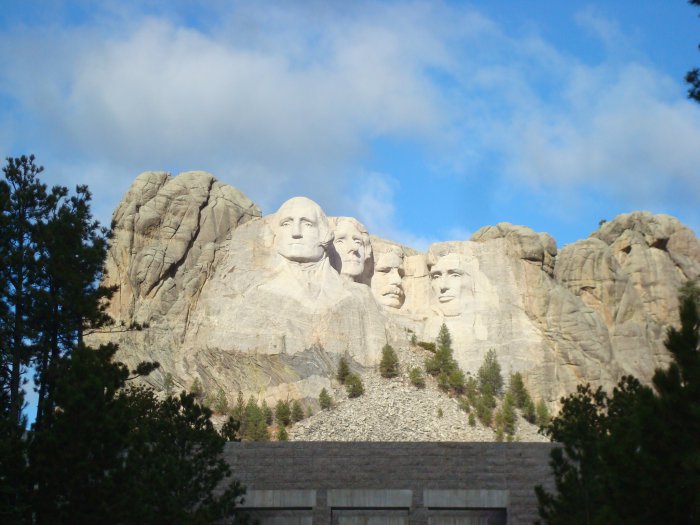 The Avenue of Flags
After entering the park, walk through the Avenue of Flags that displays 50 flags for each of the 50 United States of America. There are 6 additional flags for Washington DC, USVirgin Islands, Puerto Rico, Guam, American Samoa and Northern Marina Islands.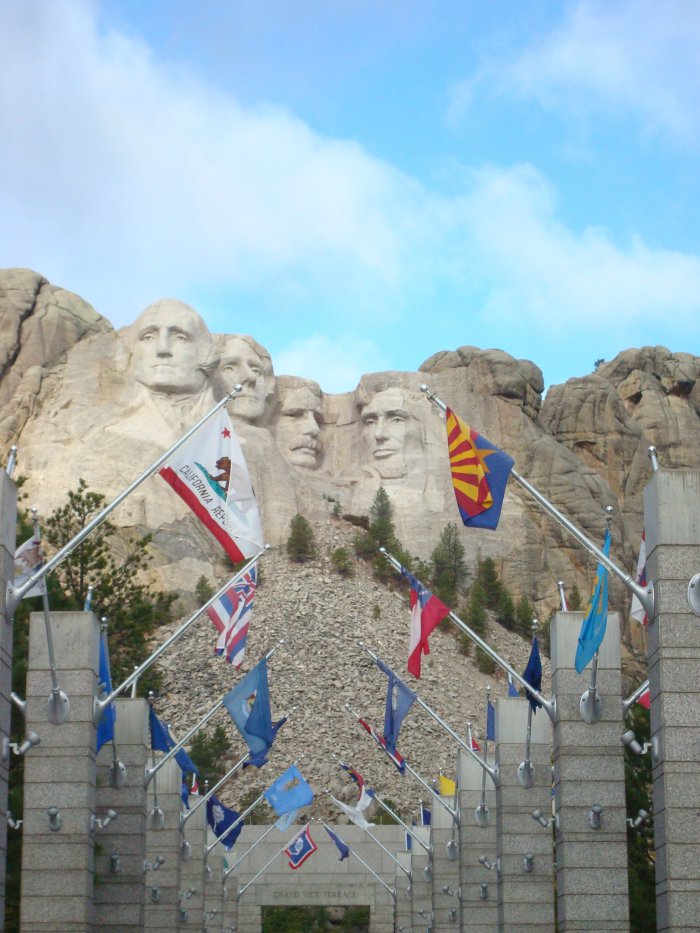 After walking through the Avenue, you'll arrive at the Grand Viewing Terrace where you can view the Mt Rushmore in all it's glory.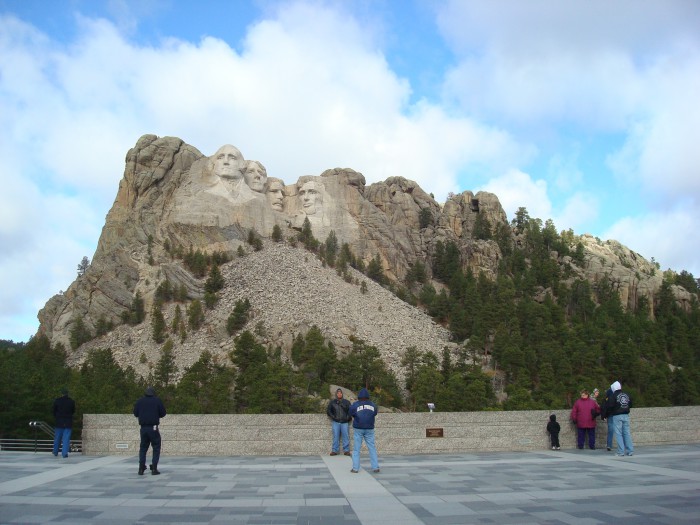 Mt. Rushmore
Mt depicts the faces of 4 US presidents: George Washington, Thomas Jefferson, Theodore Roosevelt and Abraham Lincoln. Chosen for their contribution to our great nation, this represents over 150 years of history.
The sculptor Gutzon Borglum began work in 1927 and completed the Mt. Rushmore in 1941. Let me share some fun facts that I found on Mtrusmoreinfo.com website.
Rushmore Facts:
Sculptor Gutzon Borglum began drilling into the 5,725-foot mountain in 1927, at the age of 60.
Creation of the Shrine of Democracy took 14 years and cost a mere $1 million.
Rushmore's granite faces tower 5,500 feet above sea level.
The carvings on Mount Rushmore are scaled to men who would stand 465 feet tall.
Each head on Mt. Rushmore is as tall as a six-story building.
More than 800 million pounds of stone were removed from Mount Rushmore while carving the presidents.
Each president's face is as tall as the entire Great Sphinx of Egypt, measuring 60 feet from the chin to the top of the head.
The presidents' noses are 20 feet long, each mouth 18 feet wide and the eyes are 11 feet across.
The workers had to climb 506 steps daily to get to the top of Mount Rushmore.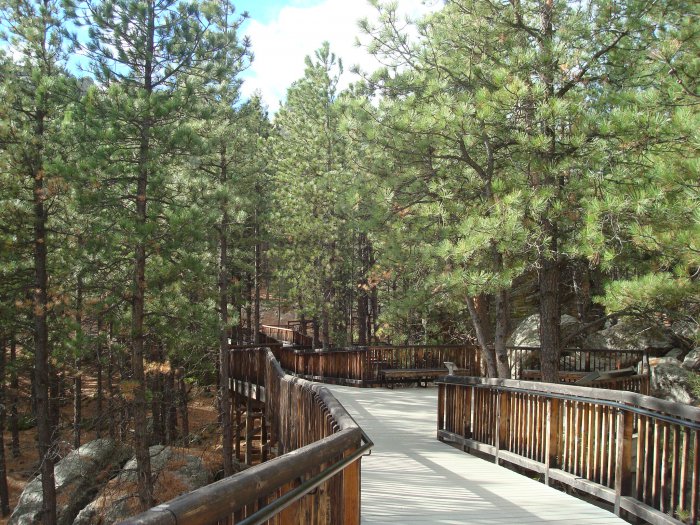 Presidential Trail
Do be sure to take the Presidential Trail which is a half mile trail around the Mt Rushmore.  From the trail (picture above), you can view each president from a unique vantage point that showcases that president. As well, you can take lots of pictures (as I did).  At the end of the trail, you'll have the full view of the 4 presidents.  This view is also available from the Grand Terrace (earlier).
Visitor's Center
Do check out the visitor's center for more information on this fascinating and unique attraction. During the summer, there is a video of the sculptor, Borglum, the workers and the process of completing Mt. Rushmore.
Sculptor's Studio
Take a tour of the studio that Borglum used to envision his creation. Again, during the summer, there is a ranger talk about the creation of the monument.
Don't forget to swing by the gift shop for a souvenir, the bookstore for more information or the café for a snack.
Visit Mt Rushmore @ Sunset
There is a sunset illuminated viewing of the Mt. Rushmore but unfortunately, I didn't make it to that. I've heard from online reviews that it is really wonderful. It does take place during late October timeframe but I was elsewhere and didn't make it back over. For Illumination hours, click here.
I can't say enough how fun this trip was. To visit Mt Rushmore in person really brought it to life for me. Don't hesitate to make this trip. Where else in America (or elsewhere…) can you find this? In addition, the surrounding area of South Dakota and Black Hills have a lot to offer.
For more information on where to stay while in South Dakota, check out my hotel review, Rapid City hotel review – Fairfield Inn.